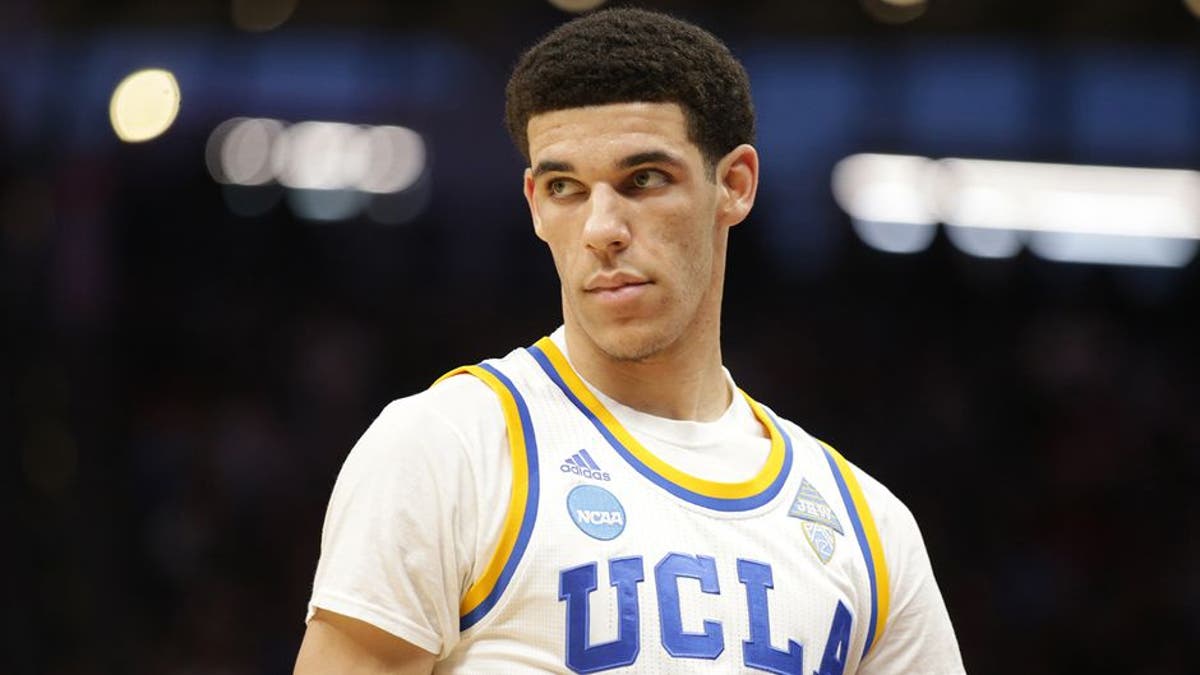 It honestly couldn't have worked out any better for the Los Angeles Lakers.
It couldn't have worked out any better for the sports world's newest, and perhaps biggest provocateur, LaVar Ball.
For months, there's been speculation that Lonzo Ball, the enthralling point guard out of UCLA, could find his way to the Lakers that he could revitalize the Showtime Lakers on the court.
It was an easy connection to make Lonzo's dad, LaVar, has been making it for weeks, if not months.
Oh, hes going to be a Laker, LaVar told ESPN. Im going to keep talking about it until it happens.
It's all part of Ball's life mantra: "Speak it into existence."
Well, after Tuesday, there's little standing in the way of Ball's vision it's going to happen, his son is going to be a Laker.
The Lakers had a less than 50 percent chance of keeping their draft pick in Tuesday night's NBA Draft Lottery. They needed to be in the top 3 to keep their 2017 and 2019 first-round picks. Whether it be karma or Magic Johnson, they did.
And by landing the No. 2 overall pick they will in all likelihood be able to select the player they reportedly covet: Ball.
America, if you thought you were nearing the end of hearing about the Big Baller Brand, you were mistaken you have a little more than a month to cope with the looming reality that the eldest Ball is going to be playing for his hometown team.
Now, there are ways Ball doesn't land with the Lakers, but they aren't likely:
The Celtics, who landed the No. 1 overall pick, could select him but when Markelle Fultz is on the board, it'd be malpractice to take Ball No. 1.
The Celtics could trade the No. 1 overall pick to Chicago or Indiana for Jimmy Butler or Paul George but again, the Bulls and Pacers would probably take Fultz No. 1.
The Lakers could trade the No. 2 overall pick for either of those same stars that have been linked with Boston.
But do you see any of those scenarios happening? The Lakers not landing Ball is about as likely as me paying $495 dollars for a pair of sneakers.
The Lakers clearly covet Ball had they landed the No. 1 pick, you could have easily seen the team taking him over Fultz.
Now, they can get their man and don't have to explain their reasoning.
In many ways, this marriage is perfect. No, it won't get rid of the loquacious and cocksure patriarch of the hooping family, but frankly, nothing would have at least this scenario is optimized for maximum entertainment.
Let's not forget that's all this is entertainment.
I see the metrics love him or hate him, people can't get enough of LaVar Ball. Now you have him playing the role of helicopter dad inthe next season of the Lakers' soap opera. He's a perfect cast addition.
Will his son be able to return the team to its standard of incredible glory with his one-of-a-kind style of play? Will the laid-back coach and the media-savvy, overweening dad clash? Will anyone buy that overpriced shoe? How does Magic Johnson (what a casting get!) keep the peace if things don't go well?
Malik Monk and Dennis Smith can't provide that sort of intrigue.
The Lakers haven't been relevant for years unless you believe there's relevance in a once great franchise being irrelevant. (Such is the world today…)
But come June 22, that will, in all likelihood,universes, and dimensions, no longer be the case.
It's a win for basketball fans too so much of this season was spent manufacturing narrative about a campaign that was ultimately highly predictable.There's no manufacturing needed here, though [insert price of shoe joke here] it's just a perfect marriage of star power, dysfunction, and talent.
You couldn't script this better.
The Lakers' beat just became one of the most fascinating in sports, and it has nothing to do with anything that's on the court.
If the Lakers get lucky again, their draft pick, who will make them the biggest story in basketball next year, will also win them a bunch of games.