Lost season aside, A's Crisp has eyes on big goals for 2016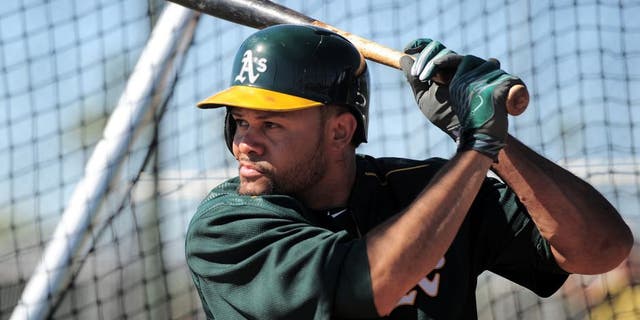 The struggles of Oakland Athletics outfielder Coco Crisp this season exemplify the long, arduous journey the Green and Gold have had in 2015.
Crisp, 35, has appeared in just 43 games entering the final day of the regular season, as nagging injuries kept him on the shelf for much of the season. He's basically only been a bench player for the past month or so, as well.
Despite his injury-ravaged year, Crisp told Susan Slusser of the San Francisco Chronicle that he has big goals in mind for 2016 - goals that can only be reached if he's able to buck recent trends and stay on the field.
"I'm dealing with more injuries than in the past," Crisp told Slusser. "But you try to find the positives from every situation, and this is the first time I've really gone through this tough of a year my entire life. You learn from it and hopefully next year, I come back and my neck has healed up. That's been my main issue, and hopefully I have a fresh start."
Of course, as Slusser notes, the A's could opt for a younger and more reliable option in the outfield. Considering they will presumably be entrusting Josh Reddick and Billy Burns with two of the three starting spots, Crisp would either be a left field option or could be traded if the A's are willing to absorb the money left on his deal (a scenario Slusser suggests as possible).
However, for now Crisp has his eyes on a big bounce-back year, especially given what some other AL veterans have done this year: "I'll be striving to be Comeback Player of the Year, like Prince Fielder and Alex Rodriguez are going for, do what they're doing," he told Slusser.
Crisp is a known favorite of GM Billy Beane and A's fans, so it will be interesting to see where he's able to fit in with the A's 2016 plans (if at all).