Loss of QB Zaire may spell doom for Notre Dame's playoff hopes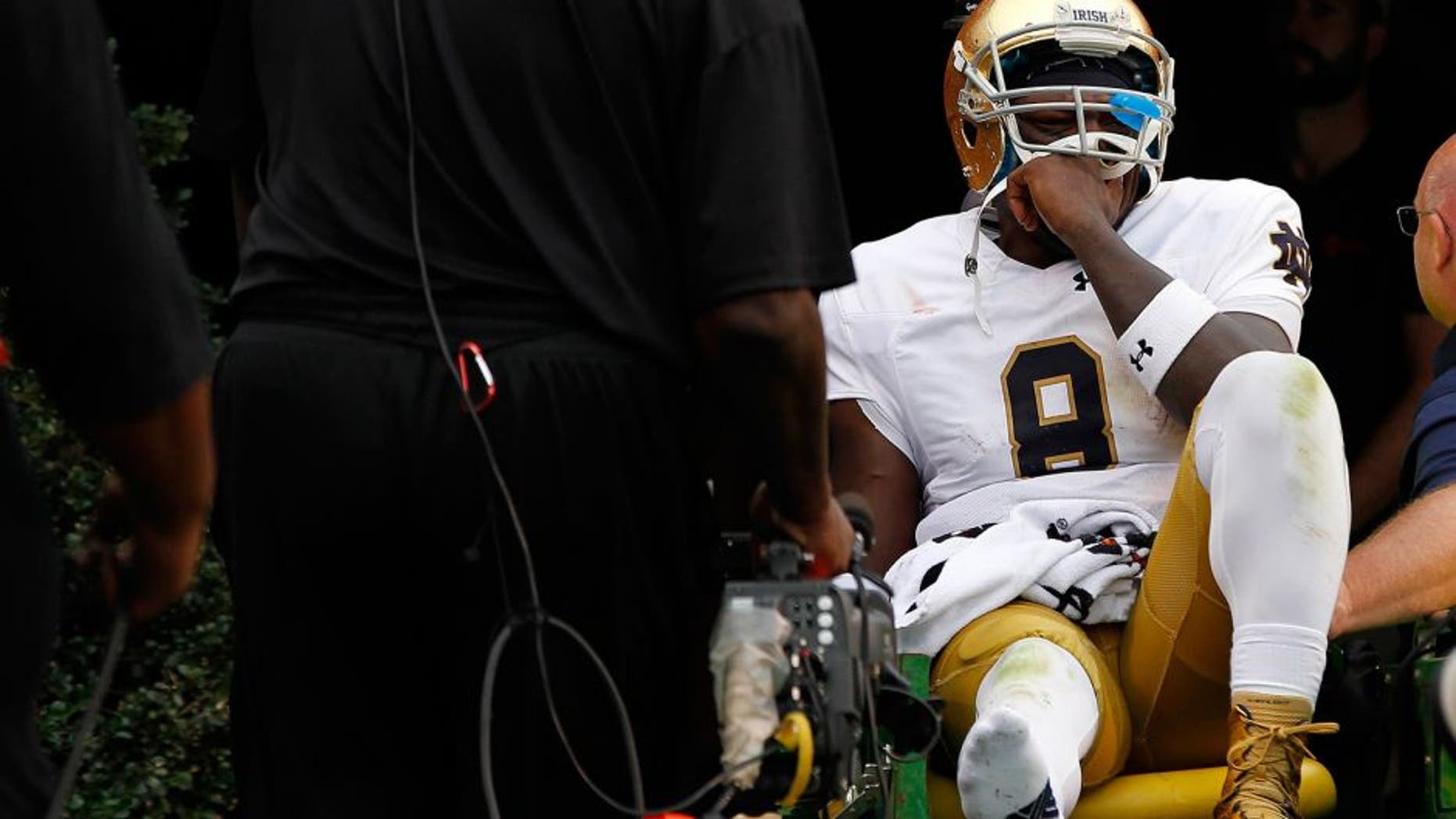 So much for the luck of the Irish.
It certainly does seem that this Notre Dame program is snakebitten of late if you consider the ridiculous amount of key injuries Notre Dame has suffered, first in the second half of last year and now carrying over to the start of this season.
One month ago, the Irish lost standout DT Jarron Jones for the season, and a few days after that the team's nickleback Shaun Crawford also went down to a season-ending ACL injury. Last week, it was starting RB Tarean Folston to go down for the year with a knee injury.
And on Saturday, it was rising star QB Malik Zaire, carted off the field after having his ankle bent back in a gruesome fashion, an injury that ended his season, too, with a fractured ankle. Notre Dame still managed to survive the road trip to UVA with a come-from-behind win thanks to more wizardry from big-play man Will Fuller, who made a superb over-the-shoulder TD catch from 39 yards out with 12 seconds remaining on a deep heave from Zaire's understudy, DeShone Kizer.
Still, for as great as the road win was, the news about Zaire, the ebullient young QB, is devastating.
Zaire, who was brilliant last week torching Texas, was emerging as quite the spark plug for a team that seemed to have only one big question going into the season: at QB. Against the Horns, Zaire was nearly flawless as a passer. If there were any knocks from that season-opening performance, it was just the operational stuff -- running an offense faster, crisper -- that he was lacking, but that would come with time. Still, it was an impressive show, especially for a guy who has had three different quarterback coaches in three seasons.
On the road against UVA on Saturday, he struggled, completing 7-of-18, but he still delivered 87 rushing yards on just 10 carries.
Zaire's dual-threat, play-making savvy first flashed for the Irish last winter, when he started and led Notre Dame to a bowl win over a very good LSU defense. In my visit to South Bend a few weeks ago, many folks inside the program -- from Brian Kelly to Irish assistants and players -- gushed about Zaire's development and his presence. I came away a believer and was ready to board the ND bandwagon, making the Irish one of the four teams I predicted would make the playoff -- especially since they are so good on the O-line, dynamic at receiver and have a fast D led by star LB Jaylon Smith.
I think Notre Dame can handle the loss of Jones and Crawford, and C.J. Prosise showed against UVA (155 rushing yards) he's more than capable of picking up the slack for Folston. And it's worth noting that Kelly proved in his time at Cincinnati he was very adept at juggling QBs, going from the injured Tony Pike to sophomore backup Zach Collaros.
But as gifted as Fuller and those Irish receivers are, I think it's too much of a stretch to think Kizer, the redshirt freshman, can keep Notre Dame on track enough to emerge from its schedule ripe for the playoff.
Up next for the Irish is a very good Georgia Tech team, and two weeks after that, Notre Dame has to visit Death Valley and play Clemson.