Los Dos Amigos: Louis Vasquez And Manny Ramírez Key To Denver Broncos' Gallop To The Super Bowl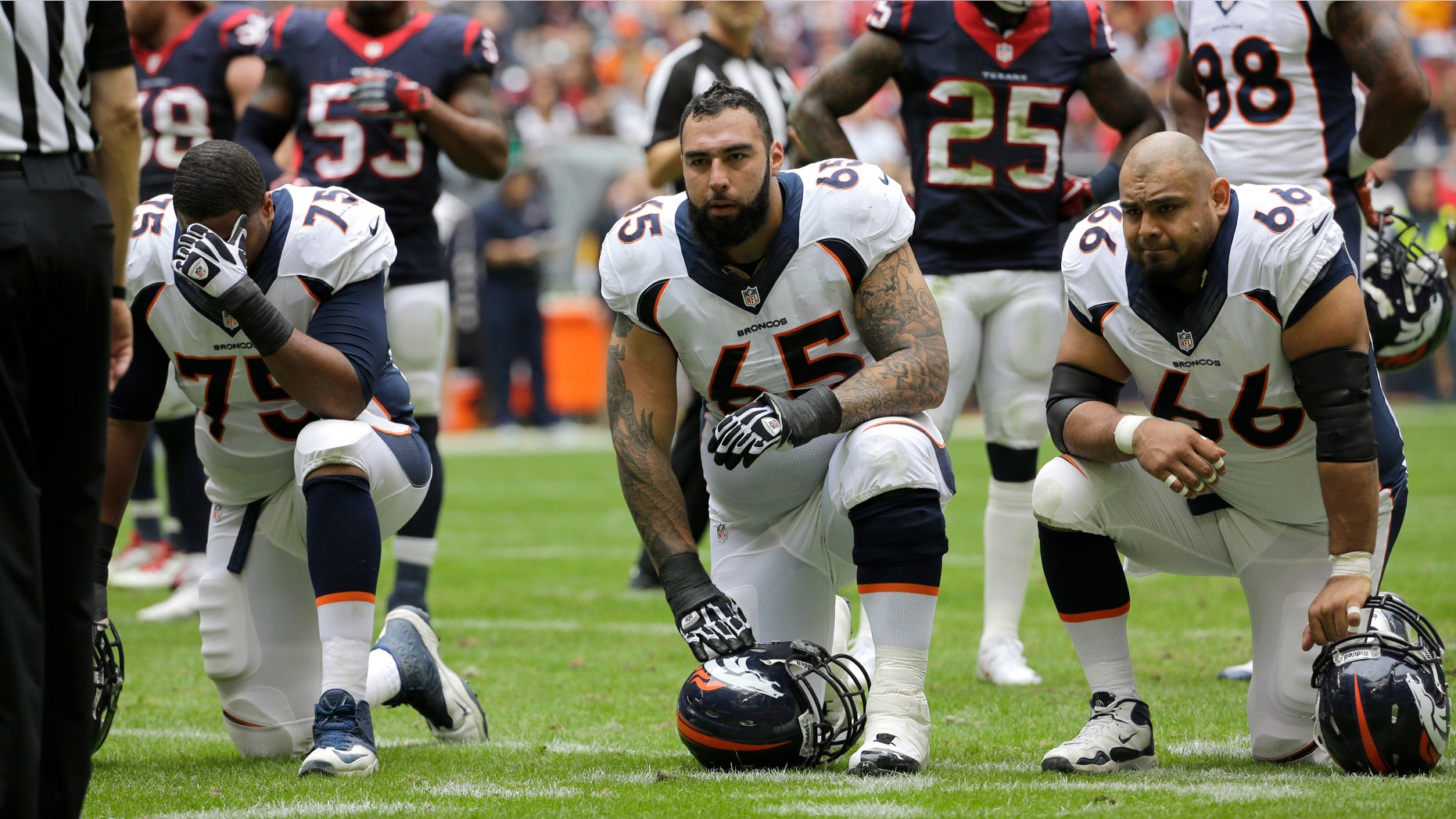 Heading into the 2013 season, the Denver Broncos' offensive line was looking a bit ragged. Four of their starting 2012 linemen had had surgery – including J.D. Walton, Chris Kuper, and Dan Koppen, all of whom were out for the season with knee or ankle injuries.
So linemen coach Dave Magazu and the Broncos targeted free agent guard Louis Vasquez, signing him last March to a four-year, $23.5 million deal only minutes after teams were allowed to offer contracts. Then they slid backup right guard Manny Ramírez over to center.
Then, in the second week of the season, left tackle Ryan Clady got sidelined with a season-ending foot injury. Never mind "ragged" – stitched together like the Frankenstein monster is nearer the mark.
What very few people realized, possibly not even Magazu and the Denver coaching staff, is that Vasquez and Ramírez are have an off-field simpatico – they have known each other much of their adult lives, and refer to each other as "brothers" – that translates perfectly to the gridiron.
And why not? Both are Mexican-American vatos from Texas – Ramírez is from Houston, Vasquez from the Dallas suburb of Corsicana – who grew up being told that Latinos can't play American football. And if by some miracle they do, they don't play on the offensive line.
The two first met when Vasquez was on a recruiting trip to Texas Tech University in early 2005, and Ramírez was starting guard and the strongest member (he could bench press 550 pounds) of a squad that had gone 8–4 and beaten California in the Holiday Bowl the year before.
Vasquez told the Denver Post that meeting Ramírez "opened my eyes" to the fact that Hispanics could play football at the highest levels of the game.
The two formed a fast friendship, and, after Vasquez accepted a scholarship to Texas Tech, the two became roomies during Ramírez's senior year in 2006.
"Since we were the only two [Latinos] there, they called us brothers," Vasquez told the Denver paper. "And we both took it to heart."
Possibly not coincidentally, the Red Raiders' offensive line allowed only 18 sacks that season.
Ramírez was drafted by Detroit in the fourth round of the 2007 draft, and began an up-and-down career with the Lions that included some solid play, a winless 2008 season, and, ultimately, getting cut a month into the 2010 season, only a year after making 12 starts for the team.
The fact that Detroit is so northern and cold and boasts a relatively small Hispanic community probably didn't help matters much.
Ramírez signed as a free agent with Denver in Jan. 2011, but had a hard time cracking the starting lineup, playing much of that year and next as a back-up right guard in Denver.
Meantime, Vasquez found himself in a much more Hispanic-friendly setting after being selected in the third round of the 2009 draft by San Diego. After four solid seasons with the Chargers, he became the class of the offensive lineman free agent class and Denver snapped him up quickly.
One of the first people he called was Ramírez. "I was shocked," Ramírez told the Associated Press, "but at the same time I was excited because Louie and I got a bond that's like brothers, so I was happy for him. And then my mindset was, 'I've just got to fight for a job.'"
Fight he did, and he would up winning the job. It just happened to be at center, where Ramírez hasn't played since high school. "This summer, I'm hearing all kinds of grief about Manny can't do this, Manny can't do that," Broncos offensive line coach Magazu said. "Well, I think Manny's proven all those people wrong."
"Where I'm from," Ramírez said, "people aren't shy to tell you to your face, 'You're not going to make it. You're a Mexican, for one thing. There aren't many Mexicans that play in the league. You're not smart enough. If you go to college, you're going to have to go to a juco first and then go to college if you get an opportunity,'" Ramirez said. "I don't know. It's just some dumb stuff people were always saying, trying to put me down for whatever reason."
But Ramírez is the first to credit his best friend for the way the line has been able to protect quarterback Peyton Manning and open holes for fellow-Hispanic running back Knowshon Moreno. "If he gets his hands on you," Ramírez said of Vasquez, "basically, you're done. His extension is amazing. His balance is good. He's a complete offensive lineman."
Magazu puts things more directly. "[Vasquez] really has been the rock," he told the AP. "He fits into the room really well. I thank God every day that we have him."
Both men have been enjoying Denver's ride through the regular season and into the Super Bowl this Sunday. One early witness to that was the Hall of Fame Mexican-American lineman, Anthony Muñoz, who participated in a Hispanic outreach event in Denver with Ramírez and Vasquez last September.
"I love how happy those two guys are in each other's company," Muñoz told Fox News Latino. "I've always been proud of my heritage, and it's great to see more and more Latino names on the back of the jerseys. And they aren't all kickers."
One thing that makes it easier is the diversity of the Denver area."There's a huge Hispanic community here – we love it," Ramirez told The Denver Post. "We try to represent it the right way."
Vasquez noted: "We take great pride in being Hispanic, showing the younger Hispanic generation that it is possible to play in the NFL. We're just showing them that the door is open, regardless of what the outside world says. We're living proof."