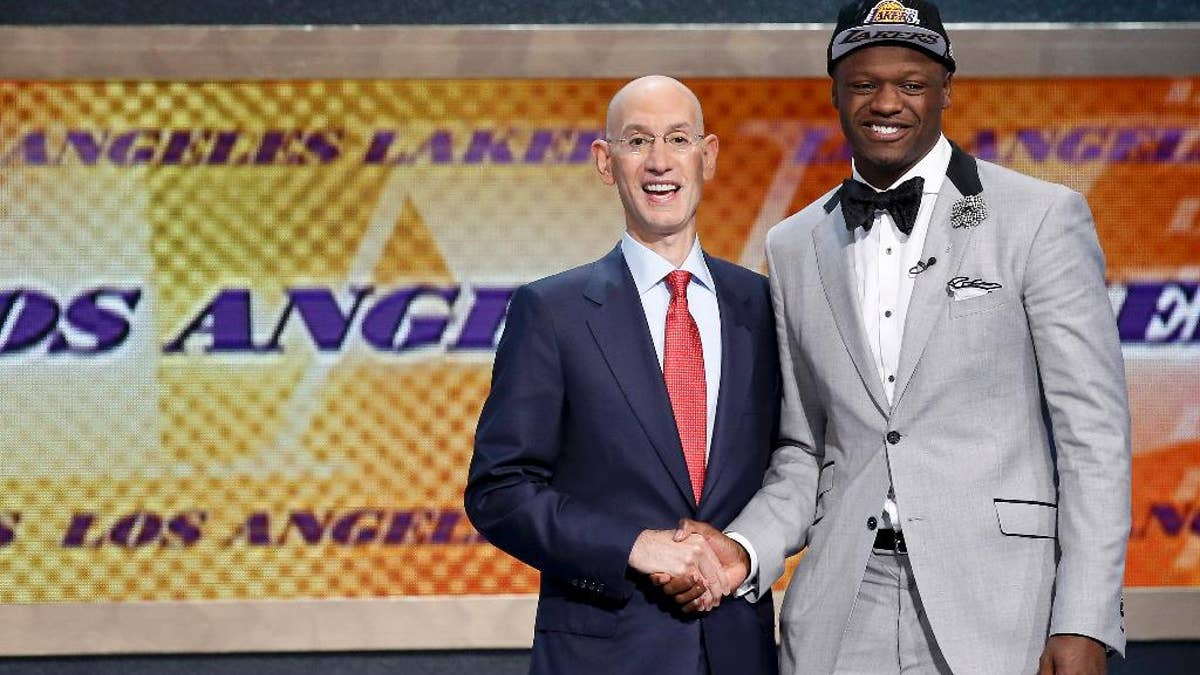 LOS ANGELES – The Los Angeles Lakers are rebuilding a franchise, and they think Julius Randle can be a cornerstone.
The Lakers selected the Kentucky power forward with the seventh pick in the NBA draft on Thursday, taking the first big step in the 16-time champions' recovery from their worst season in more than 50 years.
Lakers general manager Mitch Kupchak was thrilled to get Randle, a 6-foot-9 inside force with impressive athleticism and relentless rebounding prowess. Randle was higher than seventh on the Lakers' comprehensive draft board, even with concerns about the health of his right foot.
After two tumultuous months leading up to the draft, Randle said he was overjoyed to land in Los Angeles. He grew up in the Dallas area rooting for the Lakers — and specifically for Kobe Bryant, who is now his teammate.
"He was always my idol, my favorite player growing up," Randle said. "And now I have a chance to pick his brain and learn a lot from him. I couldn't ask for a better situation."
The 19-year-old Randle was the SEC's freshman of the year while starting all 40 games and helping the Wildcats to the NCAA championship game. Averaging 15.0 points and 10.4 rebounds per game, he had 24 games with at least 10 points and 10 rebounds, the most in the nation and the second-most by a freshman in Division I history.
The Lakers jumped at the chance to land a forward with such a consistent inside presence as they attempt to bounce back from their record 55-loss season. Randle impressed the Lakers' front office during an individual pre-draft workout earlier this month, even assuaging any concerns about his developing jump shot.
"He's got big-time skills," Kupchak said. "He can put the ball on the floor. He can drive, and he can get to the rim. ... He plays and competes at a very, very high level. He loves contact. Although I don't expect Kobe to talk to him 'til January, I think he'll like him."
Kupchak was only joking about Bryant, who cultivates a reputation as being tough on young players. In fact, Bryant texted and tweeted Randle shortly after the pick.
"Welcome Home @ J30_RANDLE from one legendary institution to one epic franchise," Bryant posted on his Twitter account.
Randle has downplayed injury concerns about his previously broken foot, but he acknowledged Thursday that he might need surgery after consulting with the Lakers' medical staff. Randle believed any procedure likely wouldn't prevent him from being ready for training camp, while Kupchak isn't worried even if Randle is out longer.
"We just felt that his talent was such that even if he did have to miss a period of time ... it would not impact his career," Kupchak said. "At his age, even if he does reinjure, there's no reason why he can't play 12, 14 more years at a very, very high level."
The injury might have cost Randle a few spots in the draft, but the Lakers embraced the risk.
After years of trading away their draft picks in a perpetual effort to win now, the Lakers savored the chance to pick an elite talent. Los Angeles had its third lottery pick in franchise history and its highest choice since 1982, when the club picked up another decent forward: Hall of Famer James Worthy.
It was the Lakers' most significant draft pick since 2005, when they chose center Andrew Bynum and nurtured the teenager into a solid NBA player.
The Lakers' rebuild is far from finished, with Randle joining only three players under contract for next season. Los Angeles also hasn't hired a coach to replace Mike D'Antoni, who resigned after the season.