Los Angeles Dodgers under fire for photo op with embattled Mexican president Peña Nieto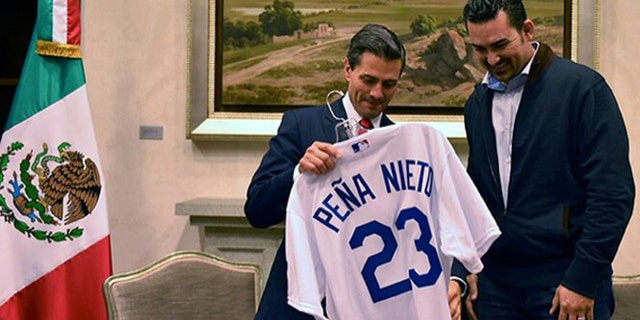 NEWYou can now listen to Fox News articles!
The Los Angeles Dodgers are getting plenty of criticism for posting a photo on Twitter and Instagram showing one of their marquee players presenting a customized jersey to Mexico's President Enrique Peña Nieto.
The photo, posted Monday, shows Dodgers star first baseman Adrian Gonzalez happily gifting the jersey to Peña Nieto. But the gesture has not resonated well with the team's large Mexican fan base who viewed the photo-op as an endorsement for an unpopular president under heavy fire over his government's mishandling of the case of the disappearance of 43 students. (More tweets below)
Thousands of protesters are demanding justice and the president's resignation over presumed mass murder of 43 male college students on September 26th. The students disappeared at the hands of a corrupt local mayor and police force and it took the federal government 10 days to intervene. The case has embodied the country's growing frustration over a government they say is corrupt and abusive.
The sting for some is particularly personal in the Mexican-American community because no Major League Baseball team has a connection with Mexico quite like the Dodgers, affectionately nicknamed the "Doyers" (the way it's pronounced in Spanish.) More than 1.8 million Latinos visited Dodger Stadium to catch a game in 2014. The team plays in a city where 42 percent of the total population, or 5.2 million people, is Latino and largely Mexican.
"The LA Latino population is larger than the combined Latino populations of [National League] West cities San Francisco, Phoenix, Denver and San Diego," a Dodgers' press release said.
Gonzalez, who is of Mexican descent but born in the U.S., was in Mexico to receive the country's 2014 Premio Nacional de Deportes.
Some angry fans say Gonzalez should have used the opportunity to call attention to the case of the missing 43 -- similar to how Lebron James and others have used their platforms to call for justice in the case of Eric Garner.
On Instagram the photo has garnered more than 4,000 comments with people posting the hashtag #takeitdown while other fans suggested the number 23 be switched to 43 on the back of the customized jersey, in reference to the missing students.
"Dodgers, this is incredibly disappointing. I am burning my Dodgers cap and I can guarantee you I will not show up to any of your games until you are driven by responsible leadership. I am just as disappointed on Adrian who should have known better," Ricardo Marín, a Dodgers fan, commented on Instagram.
The Los Angeles Dodgers told Fox News Latino they have no comment.
What an embarrassment by my @Dodgers posting a picture of Peña Nieto? Are you kidding me? Take that photo down immediately! #YaMeCansé