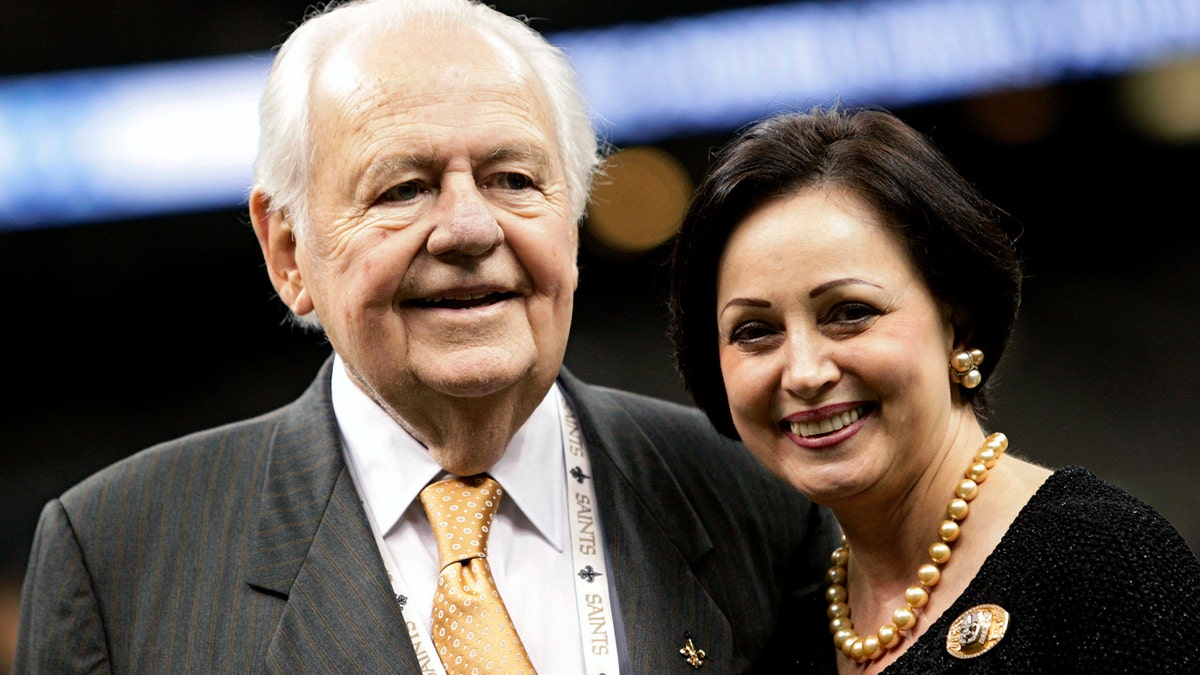 Tom Benson, a New Orleans native who owned his hometown Saints for more than three decades and oversaw their rise from lovable losers to Super Bowl champions, died Thursday at a local hospital. He was 90.
Benson, who also owned the NBA's New Orleans Pelicans, had been hospitalized with the flu on Feb. 16, according to a statement from the teams.
A successful auto dealer, Benson bought the Saints in 1985 when it appeared the club would be sold to out-of-state interests and perhaps moved out of Louisiana. He paid $70 million for the team, which is now worth more than $1 billion.
Benson's business acumen helped turn the Saints from a perennial also-ran nicknamed the "Aints" into a contender -- and ultimately, the 2009 NFL championship. Yet his ownership also was less flatteringly marked by the 2012 bounty scandal and by rumors Benson did not want to bring the team back to New Orleans after Hurricane Katrina devastated the city in 2005.
NFL Commissioner Roger Goodell described Benson as "a generous and caring philanthropist" and "a true leader among NFL owners." Former President George H.W. Bush mourned him as "a brilliant businessman" with "a genuine passion for his city and his state."
"To us, he really was 'Mr. New Orleans' and we have no doubt Tom Benson is dancing in heaven tonight," Bush said in a statement.
Benson's death comes on the heels of an acrimonious family split that has caused some uncertainty about the future of his clubs. Benson made it known in January 2015 that he wants his third wife, Gayle, to inherit complete control of the Saints and Pelicans, but Benson's disowned daughter, Renee, and her two children, Rita and Ryan LeBlanc -- who had long been in line to take over his businesses -- have vowed to prove their patriarch was manipulated against them while in a mentally enfeebled state. The estranged heirs, who still inherited hundreds of millions of dollars from irrevocable trusts set up before the family split, sued after their ouster from family business to have Benson declared mentally incompetent to run his own affairs and have a receiver other than Gayle Benson appointed to oversee them. The heirs lost that case, but still could contest the will.
In the meantime, the clubs will be run by Gayle Benson -- who married Tom Benson in 2004 -- and a trusted circle of executives installed by her husband, including Dennis Lauscha, the president of business operations for both clubs, and Mickey Loomis, an executive vice president overseeing football and basketball operations, and also serving as general manager for the Saints.
With his heavy New Orleans accent and parasol dances along the sideline after victories, Benson cut quite the figure among NFL owners when he first joined the league.
His jovial game-day persona turned hardheaded, however, when it came to business matters. In 2001, he negotiated an unprecedented $187 million in concessions and state subsidies to keep his team playing in the Louisiana Superdome through 2010 -- a deal Benson said was necessary to succeed in small-market New Orleans. That lease was followed by another unusual arrangement in which the state stopped paying direct subsidies to Benson, but committed to relocate numerous state offices in a Katrina-damaged office high-rise next to the Superdome -- at above-market rents -- if Benson rehabilitated the building, which is now called Benson Tower.
Until recent years, fans often questioned whether Benson's desire for profit outweighed his loyalty to his native city. With the Superdome and much of the city wrecked by Katrina, the Saints temporarily relocated to San Antonio, where Benson had many business holdings.
When officials there said they were talking to Benson about what it would take to keep the team, Katrina-weary residents in New Orleans reacted angrily. Graffiti reading, "Warning, Tom Benson inside," was scrawled on numerous foul-smelling, discarded refrigerators that lined sidewalks around the city.
During that season of uncertainty, the mounting stress on Benson was obvious. He argued with a heckling Saints fan after a game hosted by LSU's Tiger Stadium in Baton Rouge, then lunged at a television crew that filmed the altercation.
But when he brought the Saints back to a still-reeling New Orleans in early 2006 -- or was forced to by the league, which would not allow Benson to abandon the Big Easy -- the region's fans rewarded him with more than a decade of consecutive sellouts.
Only months after the Saints came back to New Orleans, Benson was greeted like a conquering hero at a team-sponsored fan event when the club drafted USC star Reggie Bush.
The Saints became a source of inspiration during the tough early days of post-Katrina rebuilding. In storybook style, they improved from 3-13 in 2005 to 10-6 under new coach Sean Payton, then advanced to the franchise's first NFC championship game.
The Saints remained competitive under Payton and with Drew Brees at quarterback. In 2009, a dynamic offense carried them to a 13-3 record. They beat Minnesota in overtime at the Superdome for the conference title, then defeated Indianapolis in the Super Bowl.
Benson's franchise was embarrassed two years after that victory when the NFL uncovered a bounty system in which Saints players earned improper, off-the-books cash bonuses for hits that hurt or sidelined opponents. Payton wound up serving an unprecedented full-season suspension in 2012 and the Saints were fined $500,000 -- even though Benson had ordered general manager Mickey Loomis to shut down the bounty program when the owner was told of it.
One of four children, Benson grew up in the hard-scrabble Ninth Ward of New Orleans.
In 1945, Benson served in the U.S. Navy aboard the USS South Dakota. Then he studied business and accounting at Loyola University in New Orleans, went to work as a bookkeeper for Cathey Chevrolet Co., and was sent to San Antonio as a 29-year-old in 1956 to manage a Chevrolet dealership as a junior partner. Six years later, he took full control of the company and established his own dealership.
He built his fortune in the automobile business. He also built a banking empire, Benson Financial World.
But his passion later in life was the Saints. He kept an office at the training facility and was frequently seen there and at training camp in a golf cart watching practices.
Benson drew chuckles with his Benson Boogie -- and with his malaprops. When Jim Mora quit as coach halfway through the 1996 season, Benson sent out applications used by his dealerships to coaches around the league. They asked, among other things, if the applicant was willing to work on weekends and was willing to travel.
Still, many fans respected Benson because he was the first Saints owner to field a winning squad. New Orleans joined the NFL as an expansion team in 1967, but failed to finish above .500 in any of its first 20 seasons.
Upon buying the team, Benson hired Jim Finks as general manager. Finks hired Mora, and two years later the Saints went 12-3 for their first winning record and first playoff appearance.
The Saints sank back into decline after Finks died in 1994. Even the 1997 hiring of Mike Ditka as coach didn't help. His three-year tenure is remembered most for trading away an entire year of draft picks for running back Ricky Williams.
The Saints finally returned to the playoffs after Benson replaced Ditka with Jim Haslett in 2000.
A supporter of the NFL's expansion that brought franchises to Charlotte and Jacksonville, Benson also founded the Arena League's New Orleans VooDoo. He folded the club after the 2008 season because he did not agree with the arena league's plans to bring in new investors and give them partial control over all teams. Benson was not involved in the VooDoo's brief return to New Orleans in 2010.
When the NBA took over the financially troubled New Orleans Hornets in late 2010 and spent more than a year trying to find a suitable, permanent owner, Benson finally stepped in and bought the club, now called the Pelicans, for $338 million. The estimated value of the Pelicans now exceeds $1 billion.
Tom Benson and his first wife, Shirley, had three children, two of whom preceded their father in death. He also had several step children from his marriage to his second wife, Grace, who died in 2003. In addition to his wife, estranged daughter and her two children, Tom Benson is survived by grandchild Dawn Jones, the daughter of Tom Benson's late son, Robert.
The Associated Press contributed to this report.