Longhorns struggle in lopsided loss to Notre Dame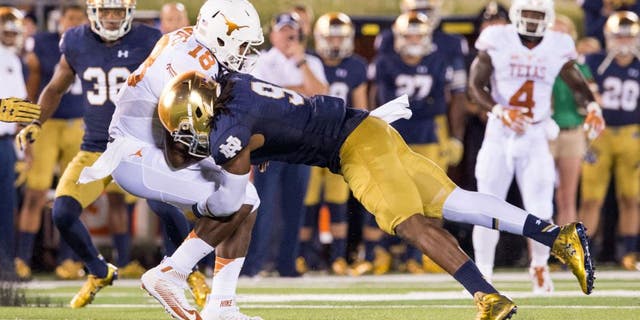 NEWYou can now listen to Fox News articles!
SOUTH BEND, Ind. (AP) -- Malik Zaire had Irish eyes smiling. The Longhorns had the eyes of Texas wishing they could look away.
Zaire passed for 313 yards in his first home start, and No. 11 Notre Dame held Texas to 163 yards of total offense in a 38-3 victory Saturday night.
Zaire was 19 of 22 passing, an 86.6 percent completion rate that was second-best in school history. Steve Beuerlein completed 10 of 11 passes against Colorado in 1984, a 90.9 percent completion rate.
Will Fuller caught a pair of touchdown passes -- one a 66-yarder -- and finished with 142 yards receiving. Chris Brown added a 6-yard touchdown catch. Freshman Josh Adams ran for a pair of TDs, including 14-yard score on his first career carry, and C.J. Prosise added 98 yards rushing on 20 carries.
Notre Dame took advantage of an inexperienced Longhorns squad starting three players who were in high school a year ago, amassing 527 yards of total offense.
The Irish improved to 9-2 against Texas, and to 10-2 in home night games. The Longhorns, coming off a 6-7 season, lost a season opener for the first time since 1999. It also marked their third straight blowout loss, finishing 2014 losing 48-10 to TCU and 31-7 to Arkansas.
The 11th meeting between the programs that rank second and third in victories (Notre Dame with 883 and Texas with 881) didn't match the significance of their three meetings in the Cotton Bowl in the 1970s when national championships were on the line each time. But there was still a big-game atmosphere, with burnt orange visible throughout the stands and with some in the crowd paying more than $500 a ticket.
But Zaire and his teammates quickly quieted the visiting fans. The left-handed junior, making just his second career start, completed nine of his first 10 passes as the Irish scored on two of their first three possessions, jumping to a 14-0 lead.
The Texas offense started the season where it finished off last season, ranking 105th in total offense, as it struggled to get anything going. Tyrone Swoopes was 7-of 22-passing for 93 yards, and Jerrod Heard completed his only pass for 10 yards.
The Longhorns didn't get the ball into Notre Dame territory until their final possession of the first half, and that was only because Notre Dame cornerback Devin Butler was called for a facemask on a play where the Longhorns would have lost 13 yards. Nick Rose kicked a pair of 52-yard field goals that didn't count because Notre Dame coach Brian Kelly called timeouts just before the snaps. Rose's third attempt sailed wide left.
The biggest play of the night for the Longhorns was a 48-yard pass by Swoopes to John Burt, who raced past defensive backs KeiVarae Russell and Cole Luke.
The Irish improved to 29-5-1 against current Big 12 members, including 9-2 records against both Texas and Oklahoma. That's their best record against Power 5 conferences. Notre Dame opens next season at Texas.