Longhorns start pressure-packed spring drills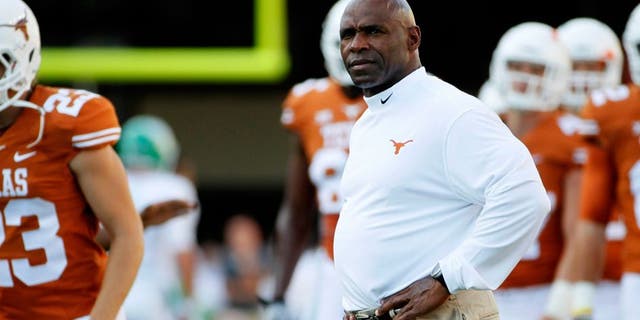 AUSTIN, Texas (AP) -- Conversations about Texas football coach Charlie Strong center on two things: finding a quarterback and finding the right number of wins to keep his job past the 2016 season.
And the first most likely sets up the second.
Strong and the Longhorns begin spring drills Monday after two consecutive losing seasons, and pressure is mounting from a fan base that may have little patience left for the promised turnaround at the former Big 12 and national powerhouse.
To be fair, Strong has enjoyed strong public support from President Greg Fenves, but few would doubt that Strong, who is 11-14, can't afford another losing season in 2016 and keep his job.
To prove that support, Strong had Fenves and athletic director Mike Perrin meet with recruits and their families in January before he landed what experts rated among the best classes in the country.
"I was just standing there and some of them were tough questions to ask but they didn't back away from it at all. When you have that support and the parents see that, and then you go win five games, people wonder, `How did they get it done?' It's because of the support that we have here," Strong said.
Signing day gave Strong some new momentum, which now must carry over onto the field.
Here are some things to watch when Texas begins spring drills Monday and finishes with its annual scrimmage April 16:
THE OFFENSE: Texas made a desperate pitch to sign new offensive coordinator Sterlin Gilbert. Fenves, Perrin and Strong took a nighttime flight to Tulsa to land him. That rankled some Texas fans who thought the aggressive recruiting made Strong and the Longhorns look weak, but they won't complain if Gilbert's power-spread offense, similar to the one Baylor runs, wins games.
"Fast, physical, have fun, and score points" was how Gilbert described his approach.
QUARTERBACKS: Expect a wide-open duel at quarterback. Sophomore Jerrod Heard showed flashes of being a gamer early last season but struggled badly as the year went on. And then there's freshman Shane Buechele, one of the standouts in Texas' strong recruiting class. Buechele is already enrolled and has a chance to jump right in with the others to learn Gilbert's offense.
Tyrone Swoopes would seem to have had used up his chances to take over the team the last two seasons, but he could get another one considering the blank slate Gilbert brings.
COACHING CONTINUITY: Strong overhauled his coaching staff after a 5-7 finish in 2015. Sterlin, offensive line coach Matt Mattox, running backs coach Anthony Johnson, wide receivers coach Charlie Williams and defensive backs coach Clay Jennings all came to Austin knowing they were jumping onto a Texas ship struggling against a losing current.
Some saw the staff turnover as a problem for Strong, who shrugged it off.
"It doesn't concern me at all," Strong said. "Yeah, some coaches left, but it's going to be about chemistry. ... There's going to be new energy, new passion."
UNLEASHING JEFFERSON: Linebacker Malik Jefferson was one of the top freshmen in the country last season and this spring could start his transition into one of the top defensive players in the country.
A natural outside linebacker, Jefferson spent a lot of time in the middle of the defense last season, but unleashing him as a dominant pass rusher off the edge could have a huge impact in the pass-happy Big 12.
TAILBACK TANDEM: The biggest beneficiaries of Texas' new power-spread offense could be tailbacks D'Onta Foreman and Chris Warren III. A pair of bruisers, they combined for 1,151 yards. Warren's 276 yards against Texas Tech were the sixth-highest total in school history and set a Longhorns freshman record.
MORE FROM FOX SPORTS SOUTHWEST:
- PHOTOS: Cowboys Cheerleaders Auditions
- Top 50 college football coaches salaries in 2015
- Five-star recruits who were never stars in college
- Biggest football recruiting steals