Local pizzeria trolls Arkansas' Bret Bielema ahead of UT game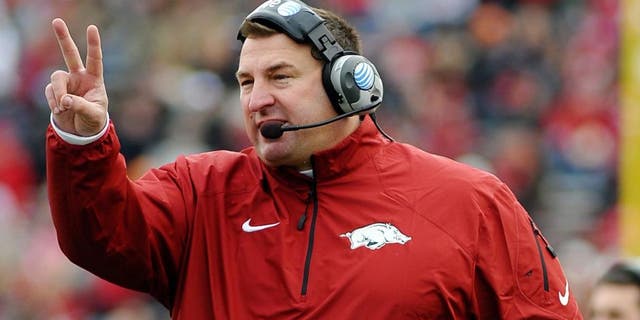 NEWYou can now listen to Fox News articles!
Arkansas will take on the Tennessee Volunteers tonight in Knoxville. Both teams are looking for their first wins in conference play. A mass amount of preparation surely has taken place ahead of the tilt. Conventional wisdom also suggests the respective coaching staffs will be a bit famished by the end of the game week.
When Arkansas head coach Bret Bielema ordered food to-go from a local Tennessee restaurant, the establishment didn't hesitate to give him a complimentary pizza...with some Vols flavor.
The Barley's Taproom and Pizzeria Maryville had some fun with the Arkansas head man, offering up a "Go Vols" message made out of olives on top of the pie.
Here's the real question: Did Bielema partake in the delicious-looking pizza? It would seem like the polite thing to do.