Living on the cutting edge isn't fun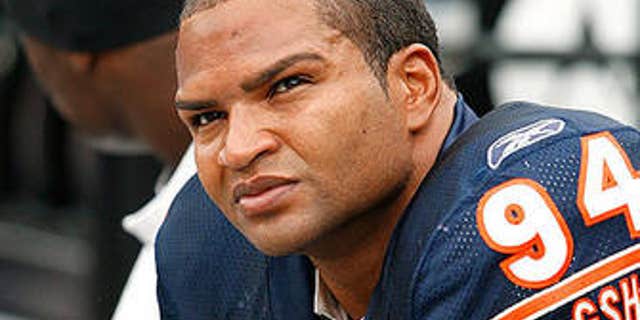 Let's just say the game I grew up loving has not always reciprocated that same love. Before my NFL career started it was almost over, not once, not twice, but thrice.
I wasn't drafted. I wasn't even invited to the NFL Combine in 1999 after UCLA won the Pac-10 Conference and I was named an All-Conference linebacker courtesy of our head coach, Bob Toledo (I'll address why I am still angry in a later article).
At the time, I was a rookie free agent. Right now, the Buffalo Bills are poised to start a rookie free agent at quarterback in Jeff Tuel. So it's not like we can't make it, but it definitely is an arduous task.
James Harrison, the former NFL defensive MVP, couldn't even escape the turk when the Steelers cut him as a free agent his rookie year. Harrison eventually did the carousel that many young players experience, having to play in NFL Europe and with the Ravens before he eventually exploded on the scene with the Steelers.
The best thing a rookie free agent can do for himself is go to the worst team in the league. Do not go to a team that played in the Super Bowl the year before as I did. I chose to take my talents to Atlanta and join the Dirty Birds in 1999, after they won the NFC Championship.
I "thought" I was going to be able to go there and make an impact as I did for every other team I played on. I was about to experience a rude awakening and a voyage that rivals Frodo Baggins in "The Lord of the Rings."
I didn't get any looks in OTAs and in camp, meaning even less reps in preseason games. I would look at special teams coordinator Joe DeCamillis with puppy eyes to try and get a rep, but no cigar.
I was cut after the second game of the preseason.
The turk snatched me up and told me to grab my playbook and bring it up to coach. They hit me up me first thing in the morning of the first cutdown. I wasn't surprised at my release; I was surprised at the lack of development the team and coaches invested in me.
The legendary Dan Reeves, head coach at the time, sat me down and said, "Son, things just didn't work out."
I told coach this was just the start of my career and I was going to play in the NFL one day -- which I'm sure heard a lot. He said, "Son, you are probably right."
I had a Cat Stevens "The First Cut Is the Deepest" moment. I fell into a deep, dark hole. For the first time in my life, I lost my identity. I didn't work out for three months; the gym had always been my sanctuary. I blew up from 230 to 245 and it wasn't muscle.
You never know how a guy is going to react when they are released. I have seen some teams beef up security on cut days because some of these young guys go berserk and lose it. Part of the evolution of the NFL and its attempt to treat players in a humane way is having a full-time team psychiatrist and psychologist available.
Often on cut days these doctors work overtime along with the team pastor consoling guys because all too often they lose their identity without football, as I did at 22.
Experiencing a cut, I always knew how the guys felt when they were released. I would tell each rookie I crossed paths with about my journey and how I was cut three times before I played a snap in the league. How my career spanned NFL Europe, 3 CFL teams, and even a stint in the XFL, where I was also cut.
Veteran players often avoid the guys that are cut because a lot of them do not know how to relate to these guys. Veterans never take into account that one day they will also be released and cast off by a team that once adored them, before they were ready, and before they thought their time had come.
It happens to each and every one of us. I would rather live my dream and play 3½ years, the NFL average, vs. never seeing the field.
In 2000, I signed with the Chicago Bears. That was Brian Urlacher's rookie year along with Mike Brown. I was still in a slump from being cut the year before, and subsequently couldn't get into good enough shape while in mini-camp with the Bears.
One of my favorite special teams coaches, Keith Armstrong, was the coordinator and he actually gave me a shot, but I just couldn't hang.
The same ole song and dance, grab your play book and bring it to coach. It wasn't even a cut day, but the NFL is constantly evaluating talent.
As soon as one guy comes off of a roster on a non-cut day he is immediately replaced with another body to fill the spot. Every NFL practice and walkthrough is filmed, graded and evaluated. At this juncture, I didn't have many options.
I had to look up north to Canada to find a job if I wanted this football dream to continue. I had reflected to my Pro Day at UCLA. Every NFL team was there and a handful of CFL teams were there trying to cherry-pick talent.
A CFL scout, Craig Smith, had approached with his business card in hand. I shunned him and put my hands up to my face so we couldn't see eye to eye.
"Oh, hell no. I am not even trying to go to the CFL," I said.
Well, guess who came calling with his tail between his legs? Yeah, out of the corner of my eye I saw he had a BC Lions logo on his shirt and a year later after being cut by two NFL teams my new best friend was Smith, the CFL scout, and I was begging for a job.
At this point I was cut in training camp, and cut in minicamp/OTA, which take place from March through June. So what could be next?
In 2001, I signed with the Baltimore Ravens, the year after they won the Super Bowl. I made this mistake once before, but they were the only team that offered me a deal after playing for the Winnipeg Blue Bombers following being cut by the Bears in 2000. Plus, my big brother Femi was on the team.
It had to be a place where they would give me a fair shot. To this day when I watch "Hard Knocks" with the Ravens, the inaugural season of the famed HBO series, I imagine myself being there in camp with the team.
Why do I have to imagine? Because they cut me after sending me to the Amsterdam Admirals in NFL Europe. I never put on a Raven helmet and never stepped foot on their practice field. The SOBs cut me from 2,500 miles away via an Ozzie Newsome phone call while I lay in bed in my brother's San Diego home.
I was living rent free, but racking up a nice tab on my big bro's account. Back then there was an NFL Europe league that was a whopping $7 million a year in the red in an attempt to penetrate the European sports market. Each team was obligated to send 7-10 members of their team to one of the six NFL Europe teams.
There were local players from Europe on the teams along with Japan and Mexico contributing talent as well. This was a great tool to develop talent. Nowadays, guys don't have this option, so it makes it even harder to get back in the league.
I didn't even get out of bed that morning. I just lay there scared, lost and confused. I was making a list of all the coaches and teams that didn't give me a chance, treated me bad, cut me, and how I was going to exact my form of vengeance on them when I finally did make it to the NFL.
I sat at home the rest of that 2001 season and watched every one of my brother's football games from a local bar in San Diego that were not nationally televised. All I could think about while watching every game is how much better I am than these guys on the football field.
Was I crazy to think that I am so much better than them? Why did I see something inside myself that no on else could see? This would run through my mind constantly and play mind games on me.
Feeling the peaks and valleys of motivation -- and I could do anything -- but man, will I get the chance to show it? The NFL diehards would be at the bars in the morning to catch the 10 a.m. PT start time of games and cheer on their favorite teams. I met some cool people over that 17-week span.
The odyssey finally ended when I made the Miami Dolphins in 2003. That marked the start of a 10-year career, which concluded last season with the Ravens and a Super Bowl ring. The journey was rough at times. Unlike many teams and coaches, I never gave up on myself and I proved them wrong.