Liverpool have no interest in EPL title race, says Klopp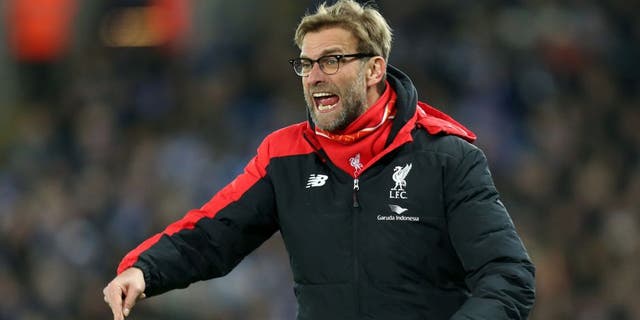 Jurgen Klopp has reluctantly admitted the Premier League title race holds no interest for Liverpool.
Anfield hosts Manchester City on Wednesday, when the home side can gain a measure of revenge for Sunday's Capital One Cup final defeat by denting fourth-placed City's chances of a second title in three years.
But with an 18-point deficit on leaders Leicester and a huge Europa League tie against Manchester United on the way this month, Klopp is not paying too much attention to a fight for the championship also featuring Arsenal and Tottenham.
"The title race for us is not really interesting," the Liverpool boss said at his pre-City press conference. "That is not the best news, but that is the truth.
"If someone wants to be champion, he should be champion without our help, without our points and that's the real champion. I don't think about who can win the league... at the moment, there are a few teams, I only think about how we can win tomorrow."
Klopp will get to re-appraise the Liverpool squad in the summer and says he and his staff are working "the whole day" on their plans for the club's future, but the German will not write off any player on the back of a Wembley performance he considered encouraging.
"I can't make a final judgement on a player just because it was a final," he said.
"I can't say 'I can trust him, I can't trust him.' We only lost on penalties. I always learn about my players, but not just on Sunday because it was a final.
"When we have to make decisions, we have to make it with a lot of information. The final is only one of those. The difference in this game was not too big between winning and losing."
Klopp conceded Simon Mignolet could have saved Fernandinho's goal for City but said of his goalkeeper, who recently signed a new contract: "I cannot say anything negative about Mignolet as a person - good boy, big personality, a lot of pressure. He's old enough, he's experienced enough and we have to go through it together."
Lucas suffered a muscular injury taking a penalty at Wembley and is likely to miss the City game, but no decision has yet been made on Daniel Sturridge, who suffered from cramp on Sunday.
"It's about who is fit enough to go into what will be a really intensive game for both sides," Klopp said. "It will be the best line-up we can (put out)."