Liverpool captain Steven Gerrard joining LA Galaxy in July after ending Liverpool career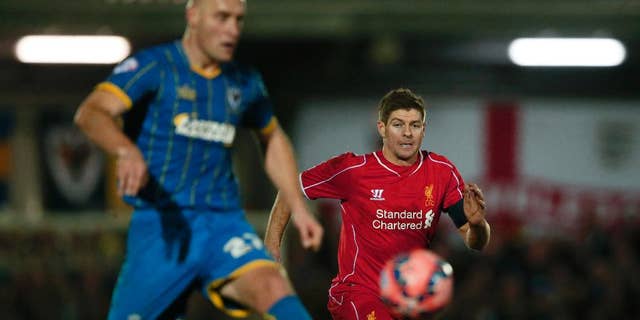 CARSON, Calif. – Steven Gerrard is the next big star in the LA Galaxy.
The Liverpool captain will join the defending Major League Soccer champions in July after completing his illustrious career with his boyhood team, the Galaxy announced Wednesday.
The 34-year-old midfielder said last week he was leaving Liverpool after the English Premier League season to move stateside. The Galaxy confirmed Gerrard's move to Southern California on an 18-month deal as a designated player, which means he will be paid above MLS' salary cap.
"The Galaxy are the most successful club in Major League Soccer history and I am looking forward to competing for more championships in the years to come," Gerrard said in a statement released by the club.
The MLS season begins in March, meaning Gerrard won't team up with league MVP Robbie Keane until midway through the schedule.
The move is the latest bold stroke for the Galaxy, who won the MLS Cup in December for the third time in four years and the record fifth time overall.
As a versatile midfielder with tremendous finishing ability and leadership skills, Gerrard seems to be an ideal replacement for Landon Donovan, a Galaxy star for the last 10 seasons who briefly played at Everton. The most accomplished player in U.S. soccer history retired last month at 32 years old, worn down by the competitive grind.
Gerrard and Keane are both two years older than Donovan, but their partnership is just getting started.
"We're very pleased to acquire a player of Steven's caliber, experience and character," Galaxy coach Bruce Arena said. "He is one of the most decorated players in the world and will join our team with a wealth of success playing at the highest level of the sport. Steven will be an excellent example to our young players."
Owner Phil Anschutz doesn't hesitate to spend to the limits of the league's salary constraints for the best available players. The Galaxy changed MLS' worldwide perception in 2007 when they signed David Beckham for his trailblazing six-year run with the club, ending in 2012 with two straight championships.
Arena has repeatedly attracted top talent to sun-splashed Hollywood, building a dynasty in a league devoted to parity. Gerrard will join Keane and U.S. national team defender Omar Gonzalez as the Galaxy's three designated players, surrounded by a solid group of complementary talent.
"The future of the team is very bright," Gerrard said.
Keane and Gerrard are reunited in what should be a potent offensive pairing.
They were teammates with Liverpool from 2008-09. Keane, who grew up as a Liverpool fan in Dublin, spent just 19 games with the Merseyside club before Tottenham reacquired him.
The 34-year-old Keane has been dominant in MLS since leaving Britain in 2011, where he played mostly for Spurs, promptly winning three titles in his four years. The Irish national team captain was the league's top player last season, getting 19 goals and 14 assists in 29 games before scoring the winning extra-time goal in the MLS Cup.
Gerrard has been a staple in Liverpool's midfield for 17 years and its full-time captain since 2003, a remarkable run of consistency in European soccer.
The Reds' longest-serving captain has scored 182 goals in 696 appearances in all competitions while winning 10 major trophies in the last 15 years, including the UEFA Champions League in 2005 and the FA Cup in 2001 and 2006.
Gerrard also served as England's captain during the last two World Cups. He has 21 goals in 114 international appearances — third-most in English history.
Gerrard is the second high-profile English player to make an MLS move in the last year, but Manchester City announced last week that Frank Lampard will stay for the rest of the Premier League season instead of switching to its sister club, New York City FC. Lampard was expected to be a cornerstone for the expansion team, and the change of plans enraged many U.S. soccer fans.
Gerrard has been left out of Liverpool's lineup occasionally this season, yet he still leads the Reds with nine goals, and former teammate Jamie Carragher recently raved about his form. He scored both goals in Liverpool's 2-1 FA Cup victory over AFC Wimbledon on Monday night.
"The LA Galaxy continue to compete for championships and strive for unparalleled success each year, and signing Steven is another example of Mr. Anschutz's continued commitment to the growth of soccer in Los Angeles and North America," Galaxy President Chris Klein said. "We were aggressive in our pursuit of Steven and look forward to his contributions to our club both on and off the field."