Liufau hurt in Colorado's 38-20 loss to No. 21 Arizona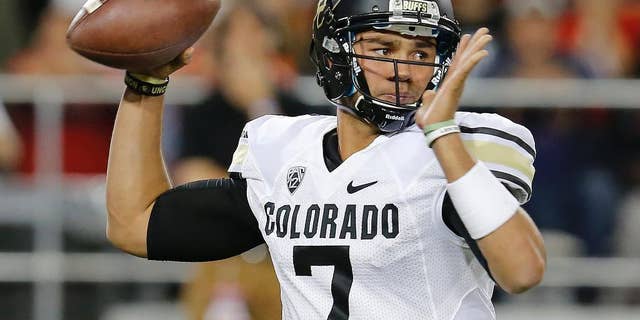 TUCSON, Ariz. – Colorado lost another Pac-12 game Saturday night, and its quarterback, too.
Sefo Liufau threw for 252 yards and a touchdown but was intercepted twice and lost two fumbles in the Buffaloes' 38-20 loss to No. 21 Arizona on Saturday night.
Liufau departed after he took a vicious hit while throwing his second interception with 11:16 to play.
"He's a little bit woozy or dizzy right now," Colorado coach Mike MacIntyre said. "I don't know if it's a concussion or all the things right now, but it's something to do with his head. He's going to be OK but I don't know how serious it is at this point."
Liufau will have extra time to recover. The Buffs don't play again until Nov. 22 at Oregon.
Anu Solomon threw for four touchdowns and ran for a career-best 115 yards, helping the Wildcats keep Colorado winless in the Pac-12.
Coming off a 17-7 loss at UCLA and playing at home for the first time in nearly a month, the Wildcats stayed in the mix in the South Division. Their remaining games are at home against Washington, at Utah and home against Arizona State.
"I know November, this is where there's so much still at stake, particularly in our conference," Arizona coach Rich Rodriguez said. "Every game you win now you kind of climb up the bowl ladder. Certainly we're in a spot, as are a couple of other teams in the Pac-12 South, that it's all going to be settled here in the next few weeks."
Arizona (7-2, 4-2, No. 19 CFP) scored a touchdown after each of the four turnovers by the Buffaloes (2-8, 0-7).
"It is just little things all over the place," MacIntyre said.
Tra'Mayne Bondurant returned Liufau's fumble 22 yards for the Wildcats' first TD.
Arizona's Nick Wilson, who has been slowed by an ankle injury, rushed for 86 of his 153 yards in the fourth quarter. He had 18 yards in each of the two previous games.
The Wildcats grabbed the lead for good when Solomon threw a 1-yard touchdown pass to David Richards that made it 21-17 with 11 seconds left in the first half.
But it was a tight game until Solomon connected with Samajie Grant for a pair of fourth-quarter touchdowns.
Grant's first TD made it 31-20 with 9:50 to play. The 27-yard reception came after Devin Holiday intercepted Liufau, who was hit hard by Sani Fuimaono just as he let go of the ball.
Liufau stayed on the ground for several minutes before getting to his feet and walking off.
"He's shaken up a little bit," Colorado wide receiver Nelson Spruce said, "but he is without a doubt the toughest guy on the team so he will be fine."
Sophomore Jordan Gehrke finished the game at quarterback for the Buffaloes.
Colorado struck on the first play from scrimmage. Shay Fields got behind Arizona cornerback Cam Denson for a 75-yard touchdown reception.
Arizona tied it at 7 when a blitzing Anthony Lopez knocked the ball from Liufau as he attempted to pass. Bondurant grabbed the fumble on one bounce and returned it 22 yards for the score.
Moments later, Liufau fumbled again. Jared Tevis knocked the ball loose and recovered at the Buffalo 31. Five plays later, Solomon's 8-yard touchdown pass to Tyrell Johnson put Arizona up 14-7.
Colorado used a trick play to tie it again.
Phillip Lindsay took the handoff and gave it to Spruce for what appeared to be a reverse. But Spruce threw 7 yards to Liufau in the end zone.
A Buffaloes drive stalled at the 1-yard line and Will Oliver's 19-yard field goal put Colorado up 17-14 with 4:09 left in the second quarter.
Jourdon Grandon's diving interception gave Arizona the ball at its 45 with just over two minutes left, and Solomon's TD pass to Richards put the Wildcats in front.
It was the ninth straight game that Liufau has thrown an interception.
Spruce, who entered the game leading the nation in catches per game at just over 10, nine receptions for 89 yards, along with his first career touchdown pass.
"I thought our kids played extremely hard again. They always will," MacIntyre said.
"We can't turn the ball over in the Pac-12 and expect to win."