Little-known NFL exec could be solution to Goodell's problems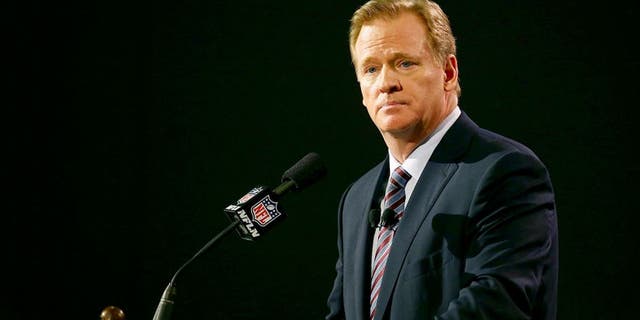 NEWYou can now listen to Fox News articles!
It'll be Brady versus Roethlisberger in next Thursday night's season opener, after all.
U.S. District Judge Richard Berman threw out the NFL's ill-fated four-game suspension of Tom Brady on Thursday, giving the league yet another public relations head-scratcher and revealing yet another trip-up in a long series of missteps regarding its process and protocol on disciplinary matters.
Judge Berman's decision was in line with the tone and his words from the three times he spoke to both sides in Manhattan courtrooms last month. In his 40-page decision, he used quotation marks around the word "independent" when describing Ted Wells' 243-page investigation, and added Jeff Pash's, the league's lead in-house counsel, name to it. More damning, he wrote that Goodell "dispensed his own brand of industrial justice."
The nuts and bolts of the Berman decision can be analyzed by the legal experts (and non-legal experts on Twitter) for hours, but the result is what matters. Brady's playing Week 1. And Mr. Goodell Went to Court. Again. And lost. Again.
The NFL thought they had a cheater caught red-handed, but there was no smoking gun, no direct link, and a host of other shortcomings in their investigation and decision-making process along the way. Instead of protecting the integrity of the game, the shield is left with a bruised ego, a tarnished armor, and a bunch of jokes and Internet memes at its expense. The perception that the NFL is ill-equipped in areas of disciplinary matters was only brought to light on a grander stage for a more mainstream audience over the last eight months.
Time and time again, I'm told by those in the know that the owners that matter absolutely love Goodell, through thick and thin, and that his job as commissioner is in no way at risk. And that's fine. I hate the knee-jerk reaction sports writers (and Twitter pundits) often have of just calling for someone's job. No solutions are ever provided; just that the person in charge has to go. But something should change inside the 395 Park Avenue offices after this experience. There should be new voices, and new counsel being provided to the commisioner within those walls.
Goodell's great in the boardroom, a masterful negotiator, and a key reason for the league's growth over the last decade. If there's one glaring spot where the NFL continues to stub its toe, though, it's league discipline. And the Brady decision can end up being the fork in the road; a true moment in time for a change. One that will spare Goodell these ugly court proceedings and late-night punchlines. And rather, let him focus on the things he's best at -- expanding the game, and serving as an ambassador for the sport and its future.
From "crime" to "crime", there's been at times shoddy logic and very little precedent or blueprint in what's decided and why such decisions are made. Whether it was with the Saints and their Bountygate issue, the Cowboys and Redskins and theirs, Richie Incognito two seasons ago, or Brady -- punishments often don't seem to fit the crimes. But amazingly, it's gone the other way, too. It's easy to say Goodell is too much of a disciplinarian, or too harsh in his rulings. But the truth is, some discipline -- Ray Rice's original two-game suspension, for example -- wasn't hard enough. At times, it appears there's no road map or even playing field.
For the players and their union, this has been a major point of frustration. Perhaps NFLPA President Eric Winston said it best on Thursday, writing in a statement, "This whole ordeal has highlighted the need for players and owners to work together to make all policies fair and transparent for everyone in our game. I welcome an opportunity to have open and constructive dialogue with the league in the near future on how we can best accomplish that."
Goodell, the only one of the four major sports leagues' commissioners who is not an attorney, seems to have the most power in doling out rulings on discipline.
Perhaps the Brady incident could help change that inconvenient truth. Protected by a Collective Bargaining Agreement or not, Goodell doesn't have to wield his power at every turn.
Patriots owner Jonathan Kraft suggested as much last month, telling a Boston radio station, "There probably needs to be a rethinking so that the league office and the commissioner aren't put in a spotlight in a way that detracts from the league's image and the game," Kraft said. "Even if the league office is doing the right thing, or the wrong thing, or whatever you think. It probably needs to be rethought for the modern era that we're in and the different things that are coming up that I don't think people anticipated and how the public wants to see them treated."
Do I expect Goodell to suddenly shift completely and loosen his reins or power? Not quite. But I do think there's a man in the league office -- a new face -- that can help guide him a bit through these rocky waters.
Tod Leiweke's name might not be a household one, but on July 24, he resigned as CEO of the NHL's Tampa Bay Lightning and took a job in the NFL league office as Goodell's first-ever Chief Operating Officer. COO is a position that Goodell once held, himself, and never sought anyone until Leiweke to fill. It's a do-everything role that is certainly closer to the commissioner than others have in the past. He's not an ambitious 30-something out of the Ivy League looking to be the next Goodell. Rather, he's been there and done that, and is joining the NFL to help and assist in ushering it smoothly into the next decade.
Leiweke, who was with Paul Allen's group that managed the Seahawks, Sounders FC, and Trail Blazers for years before joining the Lightning, is a respected businessman who has found a way to connect with fans (see The 12th Man), while advancing commercial interests. Before his days in Seattle, he was the president of the Minnesota Wild, bringing hockey back to Minnesota and maximizing the community's involvement. Asking around to those in the know, Leiweke is viewed as a progressive thinker who isn't necessarily of the "old guard". He's got a voice -- and a resume strong enough -- where if he urges a new direction on matters such as the handling of league discipline, his boss could listen.
The players say they can't trust the league office. Robert Kraft's said as much now, too. Here's Leiweke -- a new face with a track record of success outside of the league office -- empowered to make changes for the better.
He may not be an ex-player (see: Troy Vincent) or an NFL blue blood, but Leiweke could be just the guy who should be in Goodell's ear moving forward. A few months into the job, he can establish himself as more than merely a face in a crowd of countless suits. He can be the individual with enough credentials of his own to stand face to face with the commissioner on matters of consequence. He can institute change -- or at the very least, suggest it.
This isn't Mrs. Robinson, but a nation of football fans could do a lot worse than turn their lonely eyes to Leiweke. A voice of reason, and perhaps more importantly, a voice of dissention in the 345 Park Avenue offices could be just what's needed most.
New blood in the league office is a good thing. A new voice could end up being Goodell's greatest asset. The opportunity for fundamental changes -- without the complete destruction of a much-contested CBA -- is there. The league, and the new voice in Leiweke, just need to embrace it.