Little hit, big win: Royals top Blue Jays for 2-0 lead in ALCS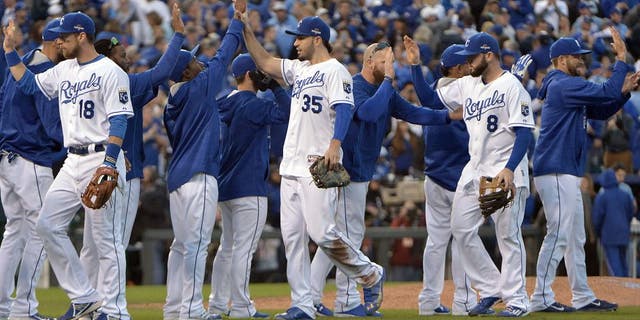 NEWYou can now listen to Fox News articles!
KANSAS CITY, Mo. -- Ben Zobrist's easy fly that somehow fell in for a hit began a five-run rally against David Price in the seventh inning, and the Kansas City Royals rolled to a 6-3 victory over the Toronto Blue Jays on Saturday for a 2-0 lead in the AL Championship Series.
Wade Davis survived a shaky ninth for Kansas City after Luke Hochevar and Danny Duffy were solid in relief of Yordano Ventura. Kelvin Herrera breezed through the eighth.
Davis gave up a leadoff single and walked pinch-hitter Cliff Pennington, but bounced back to strike out leadoff man Ben Revere and MVP candidate Josh Donaldson. Jose Bautista then flied out to right to give Davis his third postseason save and the Royals another postseason comeback win.
The Royals had been held to one hit by Price before stringing together four singles and a double in their go-ahead inning. They got run-producing hits from Eric Hosmer, Mike Moustakas, Alex Gordon and Alex Rios, along with an RBI groundout from Kendrys Morales.
It was a monumental collapse for Price, who had at one point recorded 18 straight outs. He fell to 0-7 in seven postseason starts, including a loss to Texas in their AL Division Series.
Meanwhile, the reigning AL champs have won nine straight ALCS games dating to their memorable seven-game series against Toronto in 1985 -- the year they won their only World Series. The record is 10 straight wins set by Baltimore in the 1970s and `80s.
Now, the Blue Jays head home for Game 3 on Monday night in dire trouble. All but three of the previous 25 teams to take a 2-0 lead in the best-of-seven era have won the series -- though Toronto did rally from the same hole to beat the Rangers in five games in the divisional round.
For most of the afternoon, it appeared the Blue Jays would forge a 1-1 tie.
Ryan Goins drove in a run off Ventura in the third, snapping an 18-inning scoreless streak by Royals pitchers, and Edwin Encarnacion and Troy Tulowitzki had RBIs in the sixth.
The way Price was carving up the lineup, a 3-0 lead looked to be enough.
The only bad pitch he threw the first six innings was his first, which Escobar swatted for a leadoff single. He threw first-pitch strikes to 12 of 14 batters at one point, and struck out the side in the sixth inning, giving no indication he was about to implode.
The Royals' rally began after a costly defensive lapse.
Zobrist sent a popup to shallow right field to start the seventh, and Goins gave chase from second base and Bautista from right field. Both wound up letting it drop for a single, and for the first time all game, a sellout crowd at Kauffman Stadium began to stir.
Cain followed with a clean single to extend his postseason hit streak to 11 games, matching a franchise record. Hosmer's single got the Royals on the board, and Morales added an RBI groundout up the middle, before Moustakas came up. In a 2-for-25 slump and without an RBI this postseason, he pulled a tying double to right field to set the crowd of 40,357 into a frenzy.
Gordon's double gave Kansas City the lead. Rios added another single off reliever Aaron Sanchez to close the book on Price, who was dinged for all five runs in one disastrous inning.
The last time he allowed five runs in an inning was May 8. The opponent: Kansas City.
The Royals tacked on another run off the Toronto relief corps in the eighth, but it was hardly necessary. Kansas City's own shutdown bullpen made certain the lead would stand up.