Little buzz, but lots on line still for Falcons and Packers in Monday night game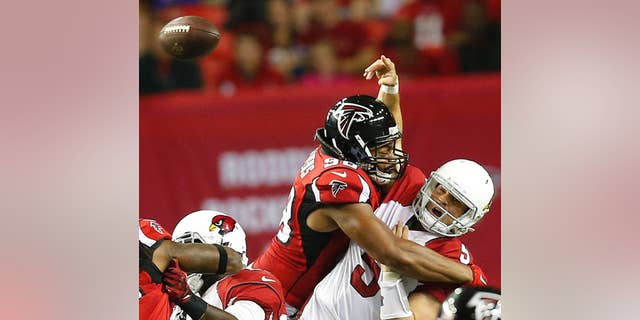 GREEN BAY, Wis. – The division leaders keep rolling into Lambeau Field to face the Packers.
But Green Bay's game Monday night against the Atlanta Falcons isn't generating quite the same buzz as the Packers' victorious showdown the previous week with the New England Patriots.
No talk of potential Super Bowl or NFC championship previews here, though this contest could be just as critical to each team's playoff hopes.
Yes, even the Packers — the 9-3 team anointed as the NFL favorite of the month after beating the Patriots — aren't guaranteed anything. Even with quarterback Aaron Rodgers playing at what Falcons coach Mike Smith described as a "level that much higher than everybody else."
The typically even-keeled Rodgers appreciates the compliments, but will kindly move on.
"I think you just have to realize that you're one game away from getting thrown in the trash," Rodgers said. "So you've got to continue to stay focused on the things you can control — your preparation, your performance each week — and realize this is a 'what have you done for me lately' league."
Even the NFC North isn't a lock for Green Bay. So long as Detroit stays a game back in the division, the Lions have a chance to unseat the Packers if they can win the regular-season finale at Lambeau. Detroit beat Green Bay in Week 3.
"There's an urgency that picks up, a focus, and we have to play our best football this week, and realize we're in some tough races. Obviously for the division, which is our first goal, and then after that anything is a bonus," Rodgers said.
Just getting to .500 would be a bonus for Atlanta, tied with New Orleans at 5-7 atop the mediocre NFC South.
The Falcons, though, have won three of four after beating injury-riddled Arizona last week. Beating the Packers in December in Green Bay could push their confidence level through the Georgia Dome roof.
"We want to be a relevant football team in December. I think that's what everybody shoots for and sometimes being a relevant football team means having 10 wins, sometimes it means having less than that," Smith said. "This week, we're playing a team that's got the best record in the NFL at 9-3 and they're playing outstanding football."
Some things to watch in the teams' first meeting on a Monday night since Atlanta's 28-21 win on Nov. 22, 1971:
ROLLING RODGERS: The star quarterback is having an MVP-caliber year, dissecting defenses with his trademark pinpoint passes and ability to extend plays. Rodgers has thrown an NFL record 360 passes at home without an interception, having last been picked off at Lambeau on Dec. 2, 2012.
"It's a big difference covering for 5 seconds and 10 to 12 seconds (against Rodgers). Receivers can run anywhere," Atlanta cornerback Desmond Trufant said.
TURNING OVER: Maybe Rodgers will meet his match in the Atlanta defense, which has the league's worst unit statistically but leads the NFC with 24 takeaways, including 14 interceptions. Nine picks have come during the recent 3-1 stretch.
"Turnovers are way more important to me. It's proven when you win the turnover battle you come out with the win, probably," safety William Moore said.
TAKEAWAYS TIMES TWO: The only problem for the Falcons is that they are facing the team that leads the league in turnover margin at plus-15. That is partly due to Rodgers, who has 32 touchdown passes to three interceptions. But the Packers' defense has been productive as well with 23 takeaways.
SECONDARY LOOK: Starting cornerback Sam Shields' availability for the Packers was in question at midweek because he is recovering from a concussion sustained in the Patriots game. At first glance, that could prove problematic given that Roddy White is expected back from an ankle injury at receiver for Atlanta to join Julio Jones and Harry Douglas.
The Packers, though, are relatively deep in the secondary. Coach Mike McCarthy likes how backup cornerbacks Davon House and Casey Hayward have performed, while young free safeties Micah Hyde and Ha Ha Clinton-Dix are often on the field together when the Packers go with five defensive backs.
FINDING CLAY: The Packers have been giving opposing offenses something extra to think about since using Clay Matthews more at inside linebacker instead of solely at his traditional role rushing the passer outside. The move seems to have helped against the run, while getting more snaps for Nick Perry and Mike Neal to rush the passer opposite Julius Peppers. Smith said it gives Green Bay flexibility to find advantageous matchups in rushing the quarterback.
___
AP Sports Writer Charles Odum and Associated Press writer George Henry in Flowery Branch, Georgia contributed to this report.
___
AP NFL websites: www.pro32.ap.org and www.twitter.com/AP_NFL