Lions RB Zenner puts med school on hold to pursue NFL career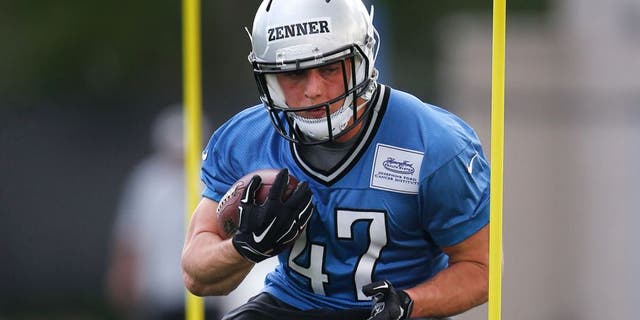 Detroit Lions running back Zach Zenner has what many other NFL hopefuls do not -- options.
While Zenner's primary focus is to make the Lions' final roster, the undrafted rookie has med school as a contingency plan. He has been accepted to the Sanford School of Medicine at the University of South Dakota, according to ESPN's Michael Rothstein.
Zenner's enrollment has been deferred until next year, allowing him to chase his dream of playing football professionally in the meantime.
"I explained that I want to pursue this NFL dream and at the same time I want to attend medical school," Zenner said, per ESPN. "I made my aspirations clear that I wanted to do both and they were flexible and said, you know, we'll go just on a year-by-year basis."
Zenner, 23, is currently battling George Winn, who made the team last year, for the Lions' fourth running back spot. Although he has a Plan B firmly in place, Zenner is not allowing his acceptance into med school to affect the way he's approaching the competition.
"You're working hard to try and make the NFL and that's one of my goals," Zenner said, via ESPN. "You know, despite there being a backup plan, I'm still working my butt off trying to make this team. There's not a sense of, well, I'll be OK afterwards.
"I'm working hard to make this roster. I know that is there, but I want to do this. And then, do that."
Paul Bunger, the dean of medical student affairs at the Sanford School, told ESPN that Zenner must make a decision by Feb. 1, 2016, if he wants to enroll at the school in July for 2016-17.
So far this preseason, Zenner has an average of 4.5 yards per carry, a five-yard touchdown reception and plenty of hype fueling his dream to make the team.
(h/t ESPN)