Lions look to bounce back from Monday's disappointing loss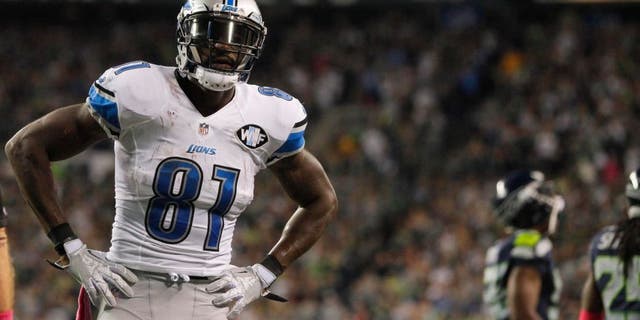 NEWYou can now listen to Fox News articles!
With a quick glance at scoring over the past three weeks, it could be easy to confuse Arizona and Detroit as being on the same offensive level - the Cardinals at 39 and the Lions at 38.
The problem is one of those is an average and the other a total.
The NFL's only winless team is in danger of reliving its darkest five-game start from seven years ago, while the high-scoring NFC West leaders will try to bounce back Sunday at Ford Field from a disappointing home loss.
Arizona (3-1) fell 24-22 to St. Louis last Sunday, handing quarterback Carson Palmer his first loss in 10 games as the team heads into a span of six of eight on the road.
"I think that sometimes these things are a blessing in disguise, just because I think this team will respond exactly the way it's supposed to," Palmer told the team's official website. "We will come back."
Palmer threw for a season-high 352 yards but was sacked four times after absorbing one through his first three games. Since the start of last season, the third-year Cardinal is 9-1 with 21 touchdowns and six interceptions, and his 99.6 passer rating trails only Aaron Rodgers, Tony Romo, Ben Roethlisberger and Tom Brady in that time.
Larry Fitzgerald continued his resurgence, catching seven passes for 99 yards to give him the third-most receiving yards (432) behind Antonio Brown and Julio Jones. His five touchdowns lead the NFL, though he doesn't necessarily agree with his quarterback on there being potential value going forward.
"We're not one of those kinds of teams that need to be humbled," Fitzgerald said.
On the ground, Chris Johnson has stepped up in the absence of Andre Ellington (knee), though the starter entering the season figures to return this week after missing the St. Louis game.
Even after the narrow defeat, Arizona is still averaging 39.0 points over the last three weeks and 37.0 for the season, which sits behind only New England (39.6). The Cardinals are one of six teams with a 100 percent red-zone scoring efficiency, and their 70.6 touchdown rate ranks sixth.
Arizona's 405.0 yards of total offense per game is fourth, and that could continue against a 25th-ranked Detroit defense surrendering 383.0 per game.
The Lions are 0-4 for the first time since 2010 and on their way to their worst start since the infamous 0-16 season in 2008.
After Monday's 13-10 loss in Seattle, Detroit has totaled 38 points in the last three games. Its 75.0 percent red-zone scoring efficiency ranks 27th, and its eight red-zone drives are tied with Chicago for the NFL's fewest, so it's no surprise the Lions rank in the bottom four in scoring (16.5) and total offense (292.8).
The latest of those red-zone drives is the most widely known after it ended with a Matthew Stafford pass to Calvin Johnson going for 10 yards to the Seattle 1-yard line before Johnson fumbled. K.J. Wright knocked the ball out the back of the end zone, and rather than flag him for illegally batting the ball, officials ruled it a touchback.
Coach Jim Caldwell is directing his players to look forward rather than dwell.
"You can take that situation and drag it out through the week where your players are more focused in on that particular play than on the opposition that we have to face in just a few days," Caldwell said.
Even if the Lions had been given the ball back at the 1 as the rule states, they'd still likely be facing questions of moving it with any level of confidence. The 90 yards they gained on that closing drive accounted for more than a third of their 256 of offense.
They've totaled 188 rushing yards this season - fewer than five single-game team totals across the league - and their per-game average of 47.0 is easily the NFL's worst. Their eight rushing first downs rank last and are six fewer than Oakland and Denver.
Rookie Ameer Abdullah has been an improvement over Joique Bell, though he's averaging 3.38 yards per carry.
In the passing game, Stafford has his worst rating through his first four games (79.7) since his rookie season (65.5).
"Well, we need some big plays, there's no question about that," Caldwell told the team's official website. "We'll take them any way we can get them. We'll take a 3-yard pass that turns into an 80-yard run. We'll take them any way we can get them in that regard, and that's one of the things that we have to do. We have to have some chunks along the way."
Arizona showed some holes against the Rams, though almost all on the ground while allowing 164 rushing yards. The Cardinals have limited their last two opponents to a total of 217 passing yards.