Lindsey Horan makes her mark for the United States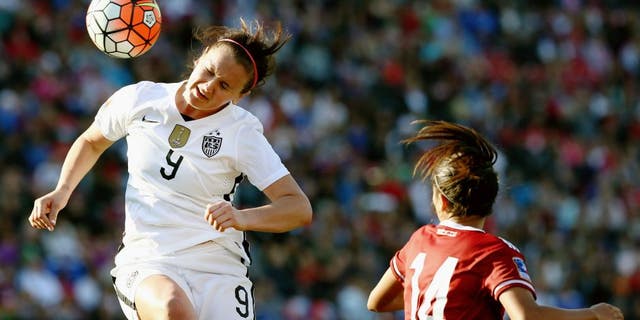 NEWYou can now listen to Fox News articles!
It won't be the last time Lindsey Horan is used and abused on the soccer field. But as the brand-new center midfielder for the U.S. women's national soccer team, the scrappy match against Mexico marked a pleasant -- if not painful -- coming out party for Horan.
For 90 minutes in a match that Mexico used to try to deny the U.S. the top spot in group play in this CONCACAF Olympic Qualifying Championship, the 21-year-old Colorado native took a beating. She was tripped, climbed over and pushed so often that, at times, it looked as if Horan was having confessional talks with the Toyota Stadium grass.
"I got a little beat up. It was rough game. For me, I just need to keep my head and that's one thing I wanted to do. I'm known to kind of lose it a little bit and foul after foul, it's kind of frustrating. But it's the game, it happens,'' Horan said after to 1-0 victory that secured a semifinal appearance for the U.S. in this Olympic qualifying effort.
Horan was named MVP for her effort, but who can blame her for looking dazed and bemused after the contentious match. Mexico parked five defenders on the back line, and dropped another four deep into the defensive end in an all-out effort to keep the U.S. women's national soccer team from scoring.
The park-the-bus approach was marked by the fact that it took more than 80 minutes before a sketchy handball call in the box led to the first and only goal by Carli Lloyd to give the U.S. a narrow win. More significant, the contest proved how lucky the U.S. is to have Horan -- all 5-foot-9 of her -- in their ranks.
After famously eschewing a full ride to the University of North Carolina four years ago to hone her considerable skills at Lyon and Paris St. Germain of the Feminine Division 1 in France. Horan is back. Her club days in France are over, for now. In January, Horan's return to the ranks of U.S. Soccer were completed when she signed with the Portland Thorns of the National Women's Soccer League.
Like Christen Press, who chose to grow her game in Sweden's top women's pro league before bowing to pressure to return to stateside, Horan has made peace with the requirement that in order to play for her country, she has to play at home.
"Obviously for me it was a different path. I would never say to any younger players that they shouldn't do it. It's an amazing opportunity but that's something you have to speak about with your family and coaches. But I think that route is an incredible route and has done so much for me and I don't regret it all. I would suggest it for any youth player that's ready for it. It's a huge step and you really do have to be prepared for it," she said.
But Horan's triumphant return to the U.S. and NWSL club play could not have come at a better moment -- if not for Horan than for the U.S. national team. It's really tough to imagine anyone else who could eat up that kind of space and be capable of taking the punishment that comes with being the quarterback that touches the ball on nearly every possession.
With Lauren Holiday's early retirement at age 27, and with Lloyd's new role as an attacking offensive player, Horan more than fills a critical role. Asked by U.S. coach Jill Ellis to move from her natural forward spot to center midfield, Horan has already become a main cog in the U.S. machine.
"Each time I play with these players I get more comfortable," Horan said, adding: "I mean that Jill put me in a new role, center mid, it's a new experience for me but I'm learning so much. Getting to know the people around me, Carli (and other veterans) taking me under their wing and just giving me advice. I mean, I'm just looking forward to getting better.''
With a place in the semifinals secure, all that sits between the U.S. women and an Olympic berth is advancing to the finals of this CONCACAF qualifying tournament. That means that Monday's match against Puerto Rico can be used, essentially, to improve upon issues that prevented the U.S. from better breaking down Mexico's defensive shape.
"I think centrally, we held onto the ball at times a little too much, got dispossessed in bad areas," Ellis said. "And I think at times, we forced balls central that got picked off. A lot of it, I thought, was decision-making. Offering and being available for a pass is certainly something we talked about. We talked a lot about angled passes. Again, it was tight in there, but I still think there was room to play. And I don't think we moved them as much as we needed to in the first half, and then our mobility was much, much better in the second half and we were able to find and create more seams."
Ellis rightfully called out the pace of the ball distribution in the match against El Tri, and said that too many times the ball was directed back to the middle and picked off too often. Part of that problem could be due to the absence of Megan Rapinoe out on the flank. Rapinoe's recovery from knee surgery may keep her out of action through the Olympics, so the U.S. will have to make sure it finds ways to get the ball out wide more.
But while this issue needs to be solved, instinctually it could mean that the team is comfortable and working together to move the ball through Horan and Morgan Brian. The center mids are both new in those roles, but are already showing better chemistry and willingness to hold down that part of field than the Lloyd/Holiday tandem did a year ago. Horan's arrival and Brian's fast acclimation to the center midfield role seems to have sewn up what was the biggest question mark the team faced.
"As the game grew on, I thought (Horan) became more and more influential," Ellis said after the Mexico match. "The things I loved about her (Saturday) is she evolved in the game; her work ethic was phenomenal. She went out there with the intent to make a difference. I think both her and Morgan Brian are just integral parts of our team. I thought they were solid for us today in the center of the park."
Horan was, indeed, solid. And the taste of the Toyota Stadium grass was bittersweet. The true start of her national team tenure wasn't soaring and triumphant. But it showed true character, which along with Horan's size and skill mean a part of the U.S. midfield is now being patrolled by exactly the right player.