Lindor homers, Carrasco strikes out 10 in Indians' 5-1 win over Orioles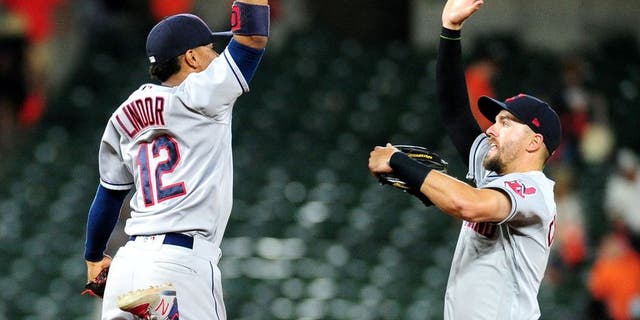 NEWYou can now listen to Fox News articles!
BALTIMORE (AP) -- The Cleveland Indians and Baltimore Orioles can smash the ball. Both teams play sound defense, and each has a veteran manager in the dugout.
So, when it comes down to explaining why the Indians lead the AL Central and the Orioles are sinking toward the bottom of the AL East, only one word is necessary: pitching.
Carlos Carrasco struck out 10 , Francisco Lindor homered and the Indians defeated the skidding Orioles 5-1 Wednesday night for their seventh win in eight games.
Carrasco (8-3) allowed seven hits and walked none over six-plus innings to win his third straight start. The right-hander struck out every Baltimore starter except Trey Mancini to reach double figures for the 11th time in his career.
Cleveland held a 3-0 lead when Carrasco yielded three straight singles to open the seventh. Andrew Miller entered and got a force at the plate before striking out Caleb Joseph and Ruben Tejada.
"That's the ballgame," Indians manager Terry Francona said. "That's pretty impressive. For them to get nothing? That certainly carried the heavy lifting."
Miller said his goal was simply to "just limit the damage."
If only it was that easy for Baltimore. Not only did the Orioles lose for the 10th time in 14 games, but they have allowed at least five runs in 18 consecutive games -- two short of the major league record set by the 1924 Philadelphia Phillies.
Once the Indians took control with a three-run fifth, Baltimore was all but finished.
"There wasn't much margin for error with Carrasco. He's having another good year," Orioles manager Buck Showalter said. "I think that's what a lot of people miss about them is, as good of an offensive club and a defensive club as they are, their pitching was good last year and will be again this year."
Dan Otero gave up an RBI double to Jonathan Schoop in the ninth, ending Cleveland's bid for its major league-leading ninth shutout. After Baltimore put runners on the corners with two outs, Bryan Shaw retired Tejada for his second save .
Kevin Gausman (3-7) gave up three runs and six hits in 5 2/3 innings with nine strikeouts for the Orioles.
Gausman was cruising until the fifth, when the Indians peeled off four straight hits to go up 3-0. After Roberto Perez doubled in a run, Lindor followed with a two-run homer.
"It's kind of the way things have gone, really, throughout the whole season so far for me," Gausman said. "Pitching well and it kind of gets away from me."
Cleveland added two runs in the ninth against Miguel Castro.
MULTI-HIT WONDER
Cleveland's Jose Ramirez went 2 for 5, extending his streak of multihit games to nine -- matching the club record held by three other players and last accomplished in 1936. Ramirez is 23 for 42 over his last nine games.
BETTER LATE THAN POSTPONED
For the second time in three nights, the start of the game was delayed by rain. This one began 44 minutes late, and Monday's got underway 29 minutes behind schedule.
TRAINER'S ROOM
Indians: OF Brandon Guyer was hit on the ankle by a pitch during a rehabilitation appearance with Triple-A Columbus on Tuesday, but X-rays revealed no damage. Francona said Guyer, on the disabled list since May 13 with a sprained left wrist, will return to Cleveland later this week to reconvene with team officials.
Orioles: RHP Darren O'Day (shoulder) pitched a simulated game and should come off the disabled list Friday. … All-Star closer Zach Britton (forearm strain) felt fine after pitching a scoreless inning in his first rehab appearance Tuesday. He could come off the DL as soon as July 5. … C Welington Castillo was given a day off with a sore shoulder. … 1B Chris Davis (oblique) received a platelet-rich plasma injection Tuesday.
UP NEXT
Indians: RHP Mike Clevinger (2-3, 3.89 ERA) seeks his first victory in five starts when Cleveland wraps up an eight-game road trip Thursday night.
Orioles: LHP Wade Miley (3-4, 4.29 ERA) tries to get back on track after allowing 15 earned runs over 10 2/3 innings during his past three starts.