Lincoln Riley inherits a loaded Sooners team and a near-impossible task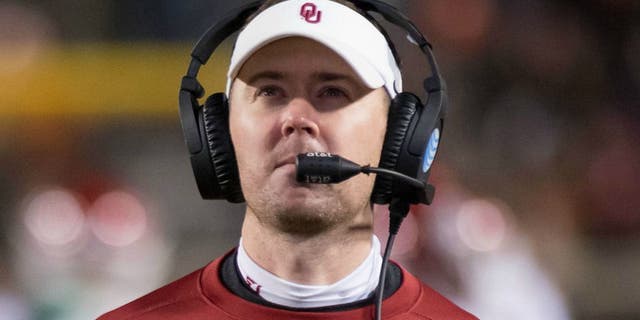 NEWYou can now listen to Fox News articles!
In explaining his unexpected retirement Wednesday, Oklahomas all-time winningest coach, Bob Stoops, said the primary reason he felt comfortable stepping down after 18 seasons was that the right guy is right here, right now.
That right guy is 33-year-old Lincoln Riley, Stoops acclaimed offensive coordinator over the past two seasons, with whom the Oklahoma brass is universally enamored.
He is widely regarded as one of the brightest minds in college football, and there is no question in my mind that he is the complete package, said Oklahoma AD Joe Castiglione.
I have no doubts we made the right choice, school president David Boren said of Riley.
It may well be that Riley is a star in the making. Unfortunately, history says hes most likely walking into a near-impossible scenario thats bound to end badly.
Sorry.
All coaches get measured against their predecessor. If Riley was set to become the new head coach at a rebuilding program like Purdue or, you know, Texas hed likely welcome that comparison.
Instead, Riley is attempting to succeed the all-time winningest coach at one of the sports most prestigious programs. Stoops won nearly 80 percent of his games, a national championship and 10 conference titles.
No pressure, Lincoln. Just go do that if not more.
To get a sense of what hes walking into, I looked up the all-time winningest coaches (by total victories) at the 13 schools I recently dubbed the Kings of college football all of them powerhouses much like Oklahoma. And then I looked up the next guy. (See the full list below.)
It wasnt pretty.
Among the all-timers (Alabamas Bear Bryant, Ohio States Woody Hayes, etc.), the median coach spent 20 seasons at his respective school. Unfortunately, the median successor lasted just five.
The median all-timer won 75 percent of his games. The median successor managed 65 percent.
Most notably, 10 of the 13 were either fired, resigned under pressure or ran off to a lesser destination. Among the exceptions were USCs John Robinson, who left for the NFL, came back and got fired the second time around, and Penn States Bill OBrien, who stuck around for just two seasons before bolting to the NFL.
The third is a guy who may be Rileys best model of hope current Florida State coach Jimbo Fisher. Hes currently winning at an even higher clip than legendary predecessor Bobby Bowden.
Fisher, like Riley, was hand-picked by his boss to succeed him, albeit as a head coach in waiting who waited for two years. Fisher, like Riley, was a first-time head coach. And Fisher, like Riley, came in initially as an offensive coordinator charged with resuscitating a struggling offense.
But even Fisher had one advantage that Riley did not.
Florida State had gone stagnant in Bowdens latter years, sinking to a 7-6 record in his final season before handing over the reins to Fisher. Noles fans therefore did not necessarily expect him to win at peak-Bowden level right away, and in fact he went 10-4 and 9-4 in his first two seasons. Two years later he went 14-0 and won the national title.
Riley, by contrast, is taking over a program coming off consecutive 11-win seasons and returning a Heisman finalist quarterback. Hell be expected both to win big right away and then keep winning big. This is, after all, the same fan base, much of which wanted to run off Stoops after an 8-5 season in 2014.
Heres wishing Riley nothing but the best. Heres hoping for his sake he enjoys a run like Fishers, or at the very least a respectable one like Hayes successor Earle Bruce, who won four Big Ten titles in nine seasons in Columbus before wearing out his welcome.
And heres truly hoping he avoids the fate of LSUs Jerry Stovall (22-21-2), Clemsons Hootie Ingram (12-21), or Notre Dames Heartley Hunk Anderson, who retired in 1933 after just three seasons. Anderson, who went 16-9-2, had succeeded the legendary Knute Rockne following his mentors fatal plane crash.
In its story reporting his retirement, the Chicago Tribune wrote: When Anderson became head coach, his position was regarded as the hardest any football coach had ever undertaken.
We wont go quite that far in describing Rileys challenge. But its pretty darn steep.
Here is the full school-by-school comparison:
Alabama
Bear Bryant (1958-82): 232-46-9 (.824)
Ray Perkins (1983-86): 32-15-1 (.677)
Clemson
Frank Howard (1940-69): 165-118-12 (.580)
Hootie Ingram (1970-72): 12-21 (.364)
Florida
Steve Spurrier (1990-2001): 122-27-1 (.817)
Ron Zook (2002-04): 23-14 (.622)
Florida State
Bobby Bowden (1976-2009): 304-97-4 (.756)
Jimbo Fisher (2010-present): 77-17 (.819)
LSU
Charlie McClendon (1962-79): 137-59-7 (.692)
Jerry Stovall (1980-83): 22-21-2 (.511)
Miami
Andy Gustafson (1948-63): 93-65-3 (.587)
Charlie Tate (1964-70): 34-27-3 (.555)
Michigan:
Bo Schembechler (1969-89): 194-48-5 (.796)
Gary Moeller* (1990-94): 44-14-3 (.758)
Notre Dame
Knute Rockne (1918-30): 105125 (.881)
Heartley Hunk Anderson (1931-33): 16-9-2 (.630)
Ohio State
Woody Hayes (1951-78): 205-61-10 (.761)
Earle Bruce (1979-87): 81-26-1 (.755)
Oklahoma (pre-Stoops)
Barry Switzer (1973-88): 157-29-4 (.837)
Gary Gibbs (1989-94): 44-23-2 (.652)
Penn State
Joe Paterno (1966-2011): 409-136-3 (.749)
Bill OBrien (2012-13): 15-9 (.625)
Texas
Darrell Royal (1957-76): 167-47-5 (.774)
Fred Akers (1977-86): 86-31-2 (.731)
USC
John McKay (1960-75): 127-40-8 (.749)
John Robinson (1976-82**): 67-14-2 (.807)
*Moeller was fired in 1995 for an off-field incident.
**Robinson returned as USCs coach from 1993-97.