Like his dad, Mike Alstott's son Griffin will play at Purdue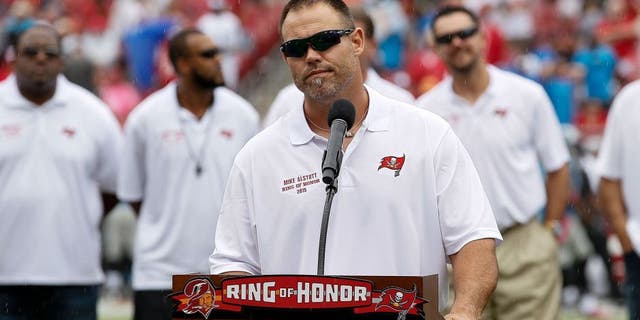 Griffin Alstott has committed to Purdue, the same school where his father Mike Alstott was a star in the early 1990s before a long career as a running back with the Tampa Bay Bucs that led to six Pro Bowl selections.
The younger Alstott, who plays quarterback for his dad at Florida's Northside Christian, announced the news Friday on Twitter.
The 6-2, 195-pound Alstott, who threw for 15 TDs in 2015 and ran for four more, reportedly also had offers from Appalachian State, Akron, Troy and Coastal Carolina.
Griffin Alstott will join a Purdue roster that includes the sons of longtime NFL players Keith Byars (RB Keith Byars II) and Brad Hopkins (TE Brycen Hopkins) and former Boilermakers hoops star Glenn "Big Dog" Robinson (DE Gelen Robinson).