Lightning heed message from ailing assistant coach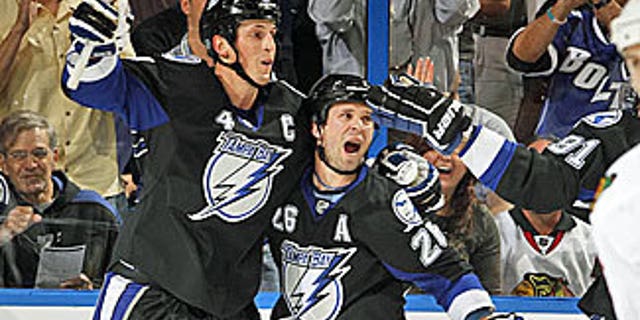 PITTSBURGH -- The message on the Tampa Bay Lightning's dressing room eraser board is short, poignant and motivating.
Especially to center Vincent Lecavalier, one of three players remaining from Tampa Bay's 2004 Stanley Cup championship team.
"A great day for playoff hockey. Embrace and savor the moment." -- WF
WF is Wayne Fleming, the Lightning assistant coach who was diagnosed last week with a primary brain tumor. Fleming, 60, didn't accompany the Lightning to Pittsburgh for the team's first Stanley Cup Playoffs game since 2007, but he is obviously with the team in spirit.
And he has a message to deliver.
These are the playoffs, the moment in time that players sometimes wait a career to play, so rise to the occasion. Make the most of the opportunity. Play every period, every shift, with the intensity and intestinal fortitude needed to gain one of the 16 victories that are necessary to raise the Stanley Cup.
The same message Fleming would be delivering in person, if only he could. He was with the team at practice this week, meeting with the players and other coaches, but stayed behind in Tampa. The team said Fleming underwent a procedure on Thursday and is awaiting the results.
Make no mistake, Lecavalier said following the pregame skate Wednesday, Fleming is with the Lightning, even if he can't talk to them between shifts or huddle with the coaches between periods.
"He's obviously going through a tough time, but he's just a great man," Lecavalier said. "I've known him for a long time. He's motivating us. We're going to play for him like we did when we learned about his condition. We're going to play for him in the playoffs, and play hard for him. I know he'll be watching all the games and texting the coaches the mistakes we make or the things we should do to be better, because he's so positive. But he'll definitely be involved."
The handwritten message proved he was.
With Fleming on the players' minds, the locker room stereo was playing at a somewhat subdued level following the morning skate. Still, the Lightning appeared to be relaxed and composed, a mood not always evident when a team has key players with minimal playoff experience.
Partly because of that, the Lightning dusted off a DVD of the team's 2004 Stanley Cup run and showed it on the team bus Tuesday.
"I tend to watch it once in a while," Lecavalier said. "But for the guys watching it for the first time, it was mostly to kind of give them a feel for how the atmosphere is in the playoffs. Just how it is -- an emotional roller coaster. Winning one, losing one, winning one. That's how it was in '04. Just showed them a little bit and they enjoyed it."
The Penguins reached the Stanley Cup Playoffs for the fifth consecutive season, yet there was a somewhat uneasy air of uncertainty going into the franchise's first playoff series against Tampa Bay.
Team captain Sidney Crosby (concussion) still isn't ready to practice with contact permitted, much less play in a playoff game.
Crosby skated with the Penguins on Wednesday, but did not speak to reporters. Coach Dan Bylsma said there was no change in his condition, which meant Crosby hasn't progressed to the point where he can do more than skate and shoot pucks during practice.
Since Crosby first reached the postseason during his second NHL season in 2007, he has played in every Penguins playoffs game. But he will not be available for the Penguins' first playoff game in the Consol Energy Center.
While several Lightning players said they are preparing to see Crosby at any point of the series, no one with the Penguins is suggesting that the former NHL MVP and scoring champion is close to being game-ready.
So with Crosby's return apparently not imminent, the Penguins will attempt to win the way they have since Crosby and, later, star Evgeni Malkin (knee) were injured. Malkin was lost for the season with a right knee injury on Feb. 4, yet the Penguins are 15-10-4 without their two big stars.
Namely, that with means a commitment to defense, a determination to play as close to mistake-free as possible in both ends -- and to make sure goalie Marc-Andre Fleury, who has never been as steady or as reliable, gets plenty of help in clearing rebounds.
"We have to be really good defensively, limit turnovers, not give them odd-man chances," forward Chris Kunitz said. "It's going to be a little bit of a back-and-forth, I'm sure. But we're going to try to stick to our game."
As Bylsma said, it's not as if they don't have experience in doing exactly that.
"I think we're confident and understand what we need to do, how we need to play, to be at our best and give ourselves a chance to win," Bylsma said. "I think the players in our room are confident that they know exactly what that is. They've been there for a while."