Liberty bolster frontcourt, picking Kelsey Bone and Toni Young in 1st round of WNBA draft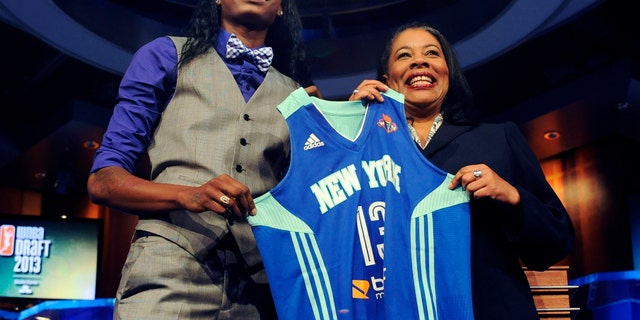 NEW YORK – Liberty coach Bill Laimbeer went into the WNBA draft looking to bolster New York's frontcourt and improve the team's athleticism.
He accomplished both, getting the players he wanted with the Liberty's two first-round picks Monday night with the selections of Texas A&M's Kelsey Bone fifth overall and Oklahoma State's Toni Young at No. 7.
"They're the two picks we targeted for a long time," Laimbeer said in a telephone interview from Bristol, Conn., where the draft took place. "Especially Toni Young, for three months we've been drooling over her being on the New York Liberty team. And when Kelsey Bone made noise that she was coming out, we also targeted her as a good player for us."
Bone, who played one season at South Carolina before transferring to Texas A&M, averaged 14.2 points and 8.1 rebounds in two years with the Aggies. The 6-foot-4 center had one season of eligibility remaining, but is set to graduate next month and decided she was ready to turn pro.
Young, a 6-2 forward, averaged 12.5 points, 8.1 rebounds and 1.3 blocks in four years with the Cowgirls.
"Toni Young is a very, very athletic forward, can run the floor," Laimbeer said, "and can play above the rim at times, which for the ladies' league is very good."
Bone and Young join a Liberty team that has struggled with rebounding in recent years. New York has also not had a player average more than 6.9 boards since Elena Baranova in 2005.
Laimbeer, the former Detroit Shock coach entering his first season in New York after nearly four years out of the league, started addressing that weakness by signing veteran forward Cheryl Ford last month. The former Shock star, who has averaged 9.7 rebounds in 196 career WNBA games, is returning to the league after sitting out the last three seasons.
Still, Laimbeer wouldn't rule out either rookie cracking the starting lineup.
"That's up to them," he said. "We play the best players and the players that mesh together with the other ones. I don't play any favorites and our players know that. They know it's a competition, a friendly competition. The bottom line is still to win, but they'll get their fair shot at it."
The Liberty selected Tennessee's Kamiko Williams with the third pick of the second round, No. 15 overall. The 5-11 guard averaged a career-high 7.4 points and 4.2 rebounds as a senior while helping the Lady Vols reach NCAA tournament's regional semifinals.
New York then took Shenneika Smith with the first pick of the third round, 25th overall, with the selection they acquired earlier in the day from Washington for the rights to center Quanitra Hollingsworth. Smith, a 6-1 forward, averaged 13.5 points and 6.1 rebounds in four years at St. John's. The New York native led the Red Storm in scoring the last three seasons.
"She has the athleticism we're looking for," Laimbeer said. "We're short in that small forward and we're looking to shore that up and she'll get a good opportunity to compete for a job."
Two spots later, the Liberty selected Turkish player Olcay Cakir. Laimbeer said he doesn't expect the 20-year-old guard to join the team this year, instead viewing her as "a pick for our future."
New York opens training camp on May 6, and visits Connecticut for the season opener on May 25. The Liberty's home opener is May 31 against Tulsa.
___
Follow Vin Cherwoo on Twitter at www.twitter.com/vincherwooap