Li Jingliang kicks off TUF Finale with first-round KO win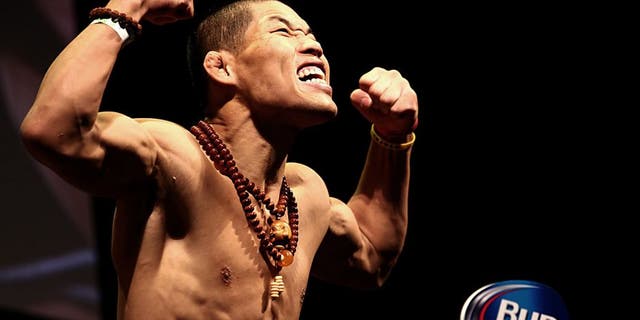 NEWYou can now listen to Fox News articles!
LAS VEGAS -- Chinese welterweight star Li Jingliang returned to competition for the first time in nearly a year Friday and scored an impressive KO win over Anton Zafir at 2:46 in the first round.
The fight was close at the start: Zafir scored the first takedowns, putting the Beijing fighter on his back. But Li had said that he had been working hard on changing his mentality off his back with his new coaches (including Robert Follis) to emphasize getting up. And it showed.
Li first hit a well-timed reversal while on bottom in side-control. Thenhe managed to execute a technical stand-up after Zafir had placed him in the compromising knee-weave position.
Then, it was Li's turn to work from on top. He hit an outside-trip from a body-lock and pinned Zafir against the cage. From there, he posted with his left hand on Anton's body, creating distance, and punished him with his right arm -- first with an elbow, then with punches.
The leverage was too much and Zafir went out, cold, prompting the keen referee to step in and stop the action. The win got Li back on track after a Sep. 2015 technical submission loss.
Afterwards, he thanked his family and China Top Team teammates back home. Then, he let the UFC that he was ready for any new challenge they want to throw his way.
"I'm not afraid to stand and bang with anyone," he screamed.
"So bring it on!"
The win improves Li's record to 11-4. The loss is Zafir's second-straight, and dips his mark to 7-3.