Lewis Hamilton takes pole for the Canadian GP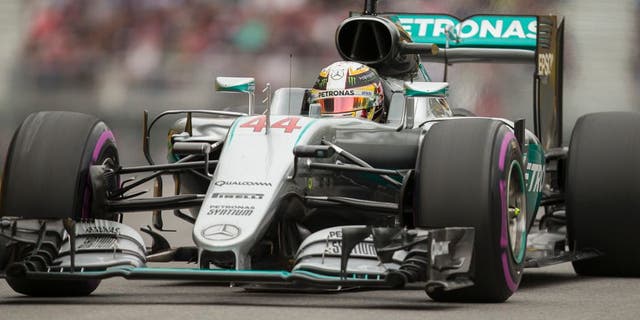 NEWYou can now listen to Fox News articles!
Lewis Hamilton will start on pole position for the Canadian GP after turning a 1:12.812 during qualifying at the Circuit Gilles Villeneuve in Montreal on Saturday. This is his fourth pole of the season.
Hamilton's Mercedes teammate Nico Rosberg will start from second position, qualifying just 0.062 seconds behind him. Rosberg had to abort his final qualifying run after a mistake early on in his lap.
Behind them, Sebastian Vettel and Daniel Ricciardo qualified on the second row on the grid. Both Mercedes, Ferraris, Red Bulls and Williams made it into Q3, as did Fernando Alonso and Nico Hulkenberg.
Q2 was interrupted when Carlos Sainz got into the Wall of Champions exiting the final chicane. However, he will still start ahead of his teammate Daniil Kvyat who qualified 13th but has a three-place grid penalty for causing a collision in Monaco. While the Toro Rosso team wasn't smiling, Fernando Alonso's team was, as the McLaren driver was able to make it through to Q3. In the closing moments, Nico Hulkenberg also turned a lap that got his Force India into the top 10 at the expense of his teammate Sergio Perez. The Haas F1 Team drivers also got knocked out in Q2 and have yet to make it through to Q3 this season.
Q1 came to a premature end when Manor's Rio Haryanto clipped the wall exiting Turn 4, sending him off into a spin. Marcus Ericsson qualified 19th but, like Sainz, will start 21st after a three-place grid penalty for causing a collision in Monaco. Ericsson didn't drop back to 22nd as Kevin Magnussen crashed at Turn 7 in FP3 and will start the race from the pits.
Unofficial starting grid:
1. Lewis Hamilton - Mercedes
2. Nico Rosberg - Mercedes
3. Sebastian Vettel - Ferrari
4. Daniel Ricciardo - Red Bull
5. Max Verstappen - Red Bull
6. Kimi Raikkonen - Ferrari
7. Valtteri Bottas - Williams
8. Felipe Massa - Williams
9. Nico Hulkenberg - Force India
10. Fernando Alonso - McLaren
11. Serio Perez - Force India
12. Jenson Button - McLaren
13. Esteban Gutierrez - Haas
14. Romain Grosjean - Haas
15. Carlos Sainz - Toro Rosso
16. Daniil Kvyat - Toro Rosso (After 3-place penalty)
17. Jolyon Palmer - Renault
18. Pascal Wehrlein - Manor
19. Felipe Nasr - Sauber
20. Rio Haryanto - Manor
21. Marcus Ericsson - Sauber (After 3-place penalty)
22. Kevin Magnussen - Renault (Pit start)