LeSean McCoy to 49ers: 'Buy in' to Chip Kelly and 'I think you'll be fine'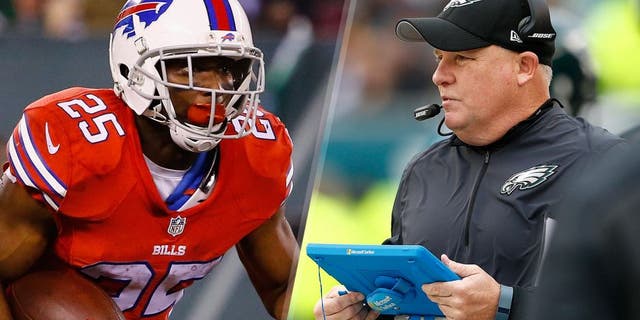 NEWYou can now listen to Fox News articles!
The relationship between LeSean McCoy and Chip Kelly has been well documented over the course of the past year. It all began when McCoy was traded from the Philadelphia Eagles to the Buffalo Bills, and Kelly failed to talk to him about it before the move was made. That didn't sit well with McCoy, and it's been all downhill from there.
Their "reunion" last season in Philadelphia didn't make things better as the two didn't even talk to each other, with McCoy saying "Chip can't shake s---" after Kelly wanted to shake his hand.
Now, McCoy and Kelly are separated even more with the latter now the head coach of the San Francisco 49ers. Maybe the extra distance has helped smooth things over because McCoy had some (kind of) nice things to say about Kelly this week -- and shared some advice for his players.
Via NFL.com:
McCoy's comments likely come in light of the fact that many of the Eagles didn't buy in to Kelly's system, which ultimately led to his downfall. Kelly's personality and coaching style isn't like most NFL coaches. McCoy called him more "hands-on" than most coaches.
McCoy and Kelly will come together once again this season when the Bills visit the 49ers in San Francisco. Maybe they'll actually shake hands and make up this time.