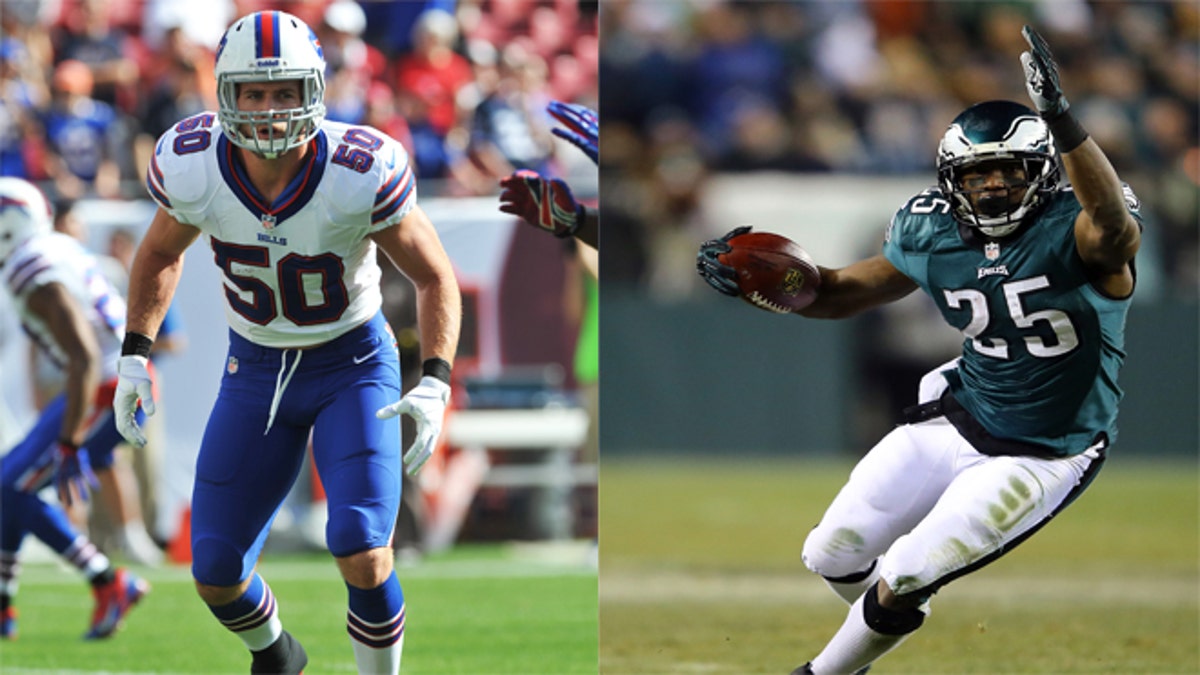 BUFFALO, N.Y. (AP) – LeSean McCoy will lead Rex Ryan's "ground and pound" running attack for the Buffalo Bills next season.
Two people familiar with the deal told the Associated Press on Tuesday that the Philadelphia Eagles have agreed to trade McCoy, their star running back, to the Bills for linebacker Kiko Alonso. The people spoke under condition of anonymity because the teams had not announced the deal.
ESPN first reported the trade.
The deal has been agreed to, but can't be completed until the 2015 league season begins on Tuesday.
McCoy had an inconsistent season last year after leading the NFL with 1,607 yards rushing in 2013. At his best, McCoy is an elite, multidimensional running back who has been a proven threat as both a runner and receiver.
He enjoyed his best season in 2013, scoring nine touchdowns rushing, adding 539 yards receiving and one touchdown.
One reason for McCoy's drop in production last season was a banged-up Eagles offensive line in which all five projected starters never played one game together.
McCoy's addition leaves C.J. Spiller likely to be in search of a new team. He is eligible to become a free agent next week.
Buffalo's 2010 first-round draft pick told the NFL Network the Bills informed him of the trade, and told him "they were going in that direction, pretty much giving me a 'Thank you for your service.'"
"Nothing has changed," Spiller said about his offseason approach. "The game plan is still the same. The only thing is that I won't be returning to Buffalo."
Alonso, who is of Cuban and Colombian descent, will be reunited with Chip Kelly, who coached the linebacker at his previous job at Oregon. Alonso made an immediate impact in Buffalo after being selected in the second round of the 2013 draft.
He emerged as a top defensive rookie of the year contender after leading Buffalo with 159 tackles, two fumble recoveries and tying for the team lead with four interceptions while barely missing a snap in playing all 16 games.
Alonso's career was derailed in July 2014 when he sustained a season-ending left knee injury during a pre-training camp workout at Oregon. He spent all of last season recovering and is expected to be healthy for the start of spring minicamps.
In Buffalo, McCoy, 26, will be reunited with former Eagles running back Bryce Brown, who was acquired by the Bills in a trade in May.
With questions at quarterback, the Bills are intending to introduce a run-heavy offense under Ryan and new offensive coordinator Greg Roman.
The trade to acquire McCoy is the next in a series of moves to upgrade the Bills' running attack, which sputtered under former coach Doug Marrone, who opted out of his contract on Dec. 31. Buffalo finished 25th in the NFL in yards rushing in managing 1,482 yards to set a 16-game season franchise low.
That was regarded as a huge disappointment for a team that entered the season featuring an established one-two running back tandem of Spiller and Fred Jackson.
Injuries didn't help. Spiller missed seven games with a broken collarbone, while Jackson was slowed by knee and groin injuries.
The Bills have already taken a gamble to upgrade their offensive line by signing guard Richie Incognito, who has been out of football since the middle of the 2013 season for his involvement in the Miami Dolphins' bullying scandal.
Roman has an established track record for running the ball after spending the previous four seasons overseeing the 49ers' offense. The 49ers finished among the top 10 in yards rushing all four times.
Roman's approach isn't expected to change in Buffalo based on comments he made during his introductory news conference in January.
"If you can exert your will at the line of scrimmage, it's going to open a lot of other things in the offense," Roman said. "So to simply say, 'Hey, we're just going to run the football,' well, nobody simply runs the football. But we want to run the football to a level of where people respect and fear us in our ability to do so."
The quiet and soft-spoken — but hard-hitting — Alonso quickly emerged as a fan favorite in Buffalo for his durability and on-field intensity.
With two interceptions in a 23-20 win over Baltimore on Sept. 29, 2013, Alonso became the league's first rookie linebacker since Al Richardson in 1980 to have an interception in three straight games.
After playing the middle linebacker role as a rookie, Alonso was set to move to an outside position before he hurt his knee.