Les Miles: Brandon Harris has the lead in QB competition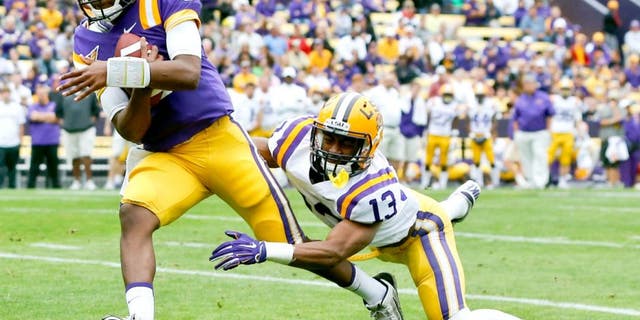 With less than two weeks until the first game of the season, LSU's offseason quarterback competition rages on. However that may be changing as Les Miles indicated Tuesday where his hand is leaning in the battle for the Tigers' starting role.
Fans have been clamoring for Harris since his arrival to campus last season and the performance of Anthony Jennings has only made the fan base all the more impatient to see the touted Harris earning the starting job. Jennings stats were not impressive after only completed 49 percent of his throws for 11 touchdowns and seven interceptions last season.
Jennings also found himself suspended this offseason after being arrested with two other members of the team. The charges were dropped, but the incident only fueled the fire for Harris and lead to questions regarding Jennings' decision-making off the field from media and fans alike.
Miles pointed to Harris' numbers in the team's latest scrimmage as a sign of his progress:
Don't be surprised if Harris is given the first opportunity to start this season. With LSU opening at home against McNeese State, the first game should only help to build Harris' confidence heading into Starkville week two.