Len, Warren help Suns close preseason with win over Lakers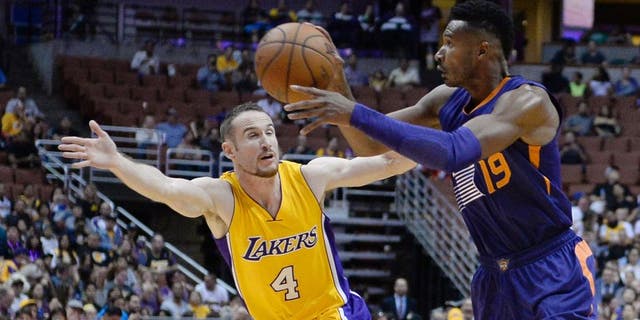 ANAHEIM, Calif. -- T.J. Warren made two free throws with 3.6 seconds left to help Phoenix hold off Los Angeles, 98-94 Friday night at the Honda Center in Anaheim.
Alex Len led the Suns with 16 points and had nine rebounds and two blocks in 24 minutes. Warren had 15 points and eight rebounds in 29 minutes.
SUNS: Brandon Knight added 14 points, and Devin Booker had 12. ... Tyson Chandler had 10 points and 11 rebounds in 23 minutes. ... The starting backcourt of Eric Bledsoe and Devin Booker combined to shoot 7 for 28.
LAKERS: D'Angelo Russell led the Lakers with 17 points and had seven rebounds. ... Julius Randle added 15 points and eight rebounds. ... The Lakers turned the ball over 23 times and shot just 26 percent from 3-point range.
UP NEXT: Phoenix (4-2) hosts Sacramento in its season opener Wednesday. Los Angeles (2-6) hosts Houston in an opener on Wednesday.