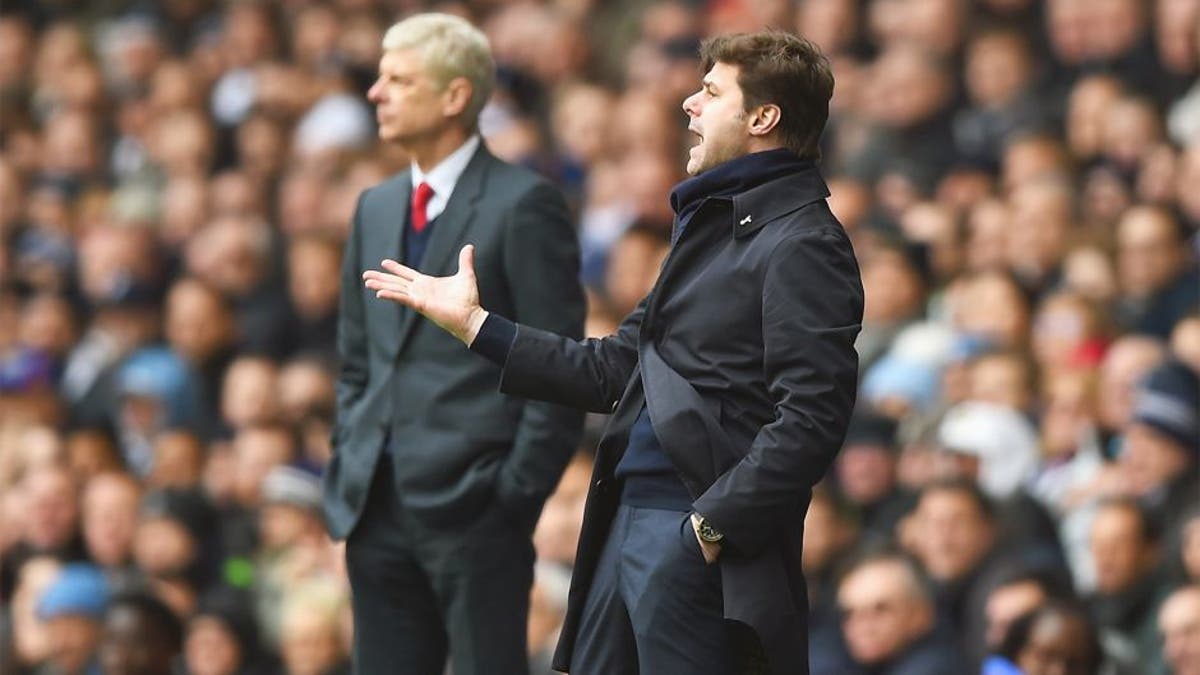 Tottenham Hotspur and Arsenal met with both looking to take three points and catapult themselves into title favorites. But as has been the case all season, neither team could make good on their opportunity. The rivals thrilled for 90 minutes, but in the end were forced to split the points in a 2-2 draw, leaving both exasperated. One team did walk away from White Hart Lane winners, though - Leicester City.
The Foxes are still atop the table and, if they had the history or money of any other contending club, people would be clamoring to hand them the trophy now. But because they are Leicester, a side that historically have no business conquering all of England, they are dismissed. They will come crashing back down to earth, so the thinking goes, but only their challengers are plummeting.
It's stunning that neither Tottenham nor Arsenal could win on Saturday, considering that both were handed chance after chance to do so. Spurs dominated the match at the start, but could only create one decent opportunity and David Ospina turned that away with a good save. Then Arsenal found a goal through a brilliant flick from Aaron Ramsey and were 1-0 up at halftime.
Outplayed and ahead, Arsenal should have gone on to win, especially when they started the second half brightly. But Francis Coquelin picked up a silly second yellow card and sent the Gunners to 10 men. Toby Alderweireld equalized onteh hour and Harry Kane scored a sensational secind two minutes later to put Spurs ahead goal. That should have cinched the match for Tottenham, especially at their home ground and having a man advantage, but they managed to concede late on as Alexis Sanchez rescued a point for the Gunners.
Both teams had chances and both teams squandered them. Neither looked the part of true title winners, capitulating each time the other handed them a lifeline. It was as if they spent 90 minutes trying to fire each other into the title race, only to be told "no, you go instead."
The match was a more condensed version of the past midweek action, which saw Leicester open the door by drawing West Brom on Tuesday, but to actually have their lead atop the table extended when Tottenham and Arsenal lost. And that isn't all too different from the entire Premier League season: a cavalcade of opportunities for a more glamorous club than Leicester to put one hand on the trophy, only to reliquish it and leave the Foxes with an easy walk into the history books.
Only in this Premier League season could a north London derby, which is a highlight of every campaign's calendar even when there aren't huge stakes that affect the title race, prove to be a disappointment for both Tottenham and Arsenal. Even with all eyes on the white and red in England's capital, the blue from the East Midlands shone brighter and they didn't have to put on any boots or break a sweat to do it.
Each missed opportunity by Tottenham was a win for Leicester. The Foxes came away victorious when Ospina saved and when Ramsey found the net. Claudio Ranieri's men took a step forward with Alderweireld's equalizer and Kane's spectacular curler. They took two steps forward when Alexis Sanchez was so good even a red card to the Gunners couldn't keep him from the back of the net. Each deafening chant from the Spurs crowd and clap from the Arsenal end proved to be supporting Leicester.
Of course, neither north London club are out of the title race. Tottenham are only two points back and Arsenal five - albeit with Leicester having a match in hand - but the Foxes are still top and they have the advantage of less fixture congestion thanks to no domestic or European cup play.
The Foxes are on the front foot, as they have been all season. Or, depending how you look at it, Leicester are flat footed and the rest of the league are on their heels. That would suit Ranieri and co. just fine because as we saw at White Hart Lane, even the most magnificent of displays somehow manage to still favor one team - underdog Leicester, who should have shed that label long ago, but at this point are wearing it with pride as other long for their resilience. Especially in north London.
Spurs and Arsenal delivered in so many ways. The energy, entertainment and drama made for as mesmerizing a match as anyone could have wished for, unless you count yourself a member of either club. Because, while derbies and bragging rights can consume any fan, there was more on the line at White Hart Lane. The title was up for grabs in one of the biggest north London derbies ever and the only sure successful result was a win for either team, but both watched it slip through their fingers and Leicester was there to grab it. Just as they have been all season long.