Legendary sportscaster Jim Gray elected to Boxing Hall of Fame
Jim Gray, the legendary sportscaster and Fox News contributor, has been inducted into the Boxing Hall of Fame alongside former heavyweight champion Vitali Klitschko.
Gray, 59, who has won 12 National Emmys as well as numerous other awards during a career that has spanned more than 40 years, paid tribute to his family and friends during the ceremony in Canastota, New York, with his typical humility and humor.
The veteran of more than 700 championship bouts as part of the Showtime broadcast team was introduced by a visibly emotional Mike Tyson.
"He's always been honest, he's always been a straight shooter with me, even when I was wrong, which was most of the time," Tyson joked.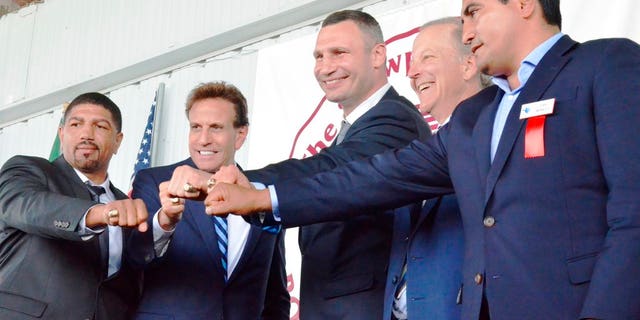 "This opportunity and this award is way, way overdue.
"Well deserved, great merit, always stood up and nothing could deny you from the Hall of Fame. I'm very proud of you. Your family's proud of you. It's a good moment brother."
JIM GRAY: LEBRON JAMES IS EXACTLY RIGHT TO CALL NCAA CORRUPT
Gray returned the compliment to Tyson, telling the audience: "Mike and I have a long history together, somewhat ironic that the man who threatened to kill me in public is now inducting me into the hall of fame.
"That's only half the story. Forty-five seconds later he kissed me on my cheek and 25 years later I'm still trying to figure out what's more disturbing.
"I never once contemplated in my life that I'd be standing in the ring next to someone who bit a man's ear and that same man would become one of my close and dear friends. That he would, in so many ways, make me famous. So much so that when I interviewed President George W Bush in the White House the first thing he asked me 'What's it like to be around Mike Tyson?' When I told him it's wonderful, it brought a big smile to the president's face.
Gray was the reporter on the scene of the infamous Tyson-Evander Holyfield fight in 1997 when Tyson bit off his opponent's earlobe. He interviewed the referee who disqualified Tyson, Mills Lane, as well as the boxer himself just moments after he bit Holyfield. The interview won him an Emmy.
JIM GRAY ON THE REAL REASON NFL OWNERS DON'T WANT KAEPERNICK
Gray, who began his career with ABC News' Denver affiliate as a teenager where he received his break by interviewing Muhammad Ali, also remarked with some bemusement that he ended up in the Hall of Fame with so many storied fighters.
"My journey today has been an unlikely one. The Boxing Hall of Fame immortalized all of these great fighters. So this magnificent honor comes with tremendous humility. How could this happen? I never took a punch, and I'm sure there are a lot of you out there who would have liked to have seen that happen."
Klitschko, who is now the mayor of Kiev after retiring from boxing, said it was a "dream" to be entered into the Hall of Fame.
"I never expected I will be in [the Hall of Fame]. I didn't expect one day I become world champion in the United States. I'm very proud to be together with boxing legends. It's a dream to be in with Muhammad Ali."
Also inducted Sunday were four division World Champion Erik Morales and light middleweight champion Ronald 'Winky' Wright while Sid Terris was honored posthumously.
Along with Gray, broadcaster Steve Albert was inducted, while German promoter Klaus-Peter Kohl was honored in the non-participant category.
Ring announcer Johnny Addie and promoter Lorraine Chargin were also honored posthumously in the non-participant category.