Led by JPP and Ayers, the Giants are finally getting to the quarterback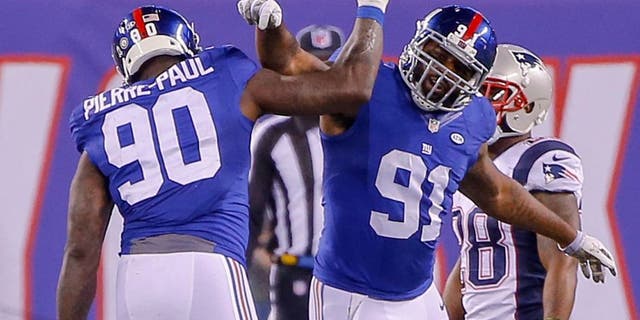 NEWYou can now listen to Fox News articles!
Jason Pierre-Paul (90) and Robert Ayers (91) led the way for a rejuvenated Giants pass rush in Week 10. Jim O'Connor USA TODAY Sports
After totaling just nine sacks through their first nine games, the New York Giants racked up three sacks in their Week 10 loss to the New England Patriots.
The sacks don't tell the entire story. The defense put constant pressure on Patriots quarterback Tom Brady -- Pro Football Focus charted the Giants with three quarterback hits and 21 quarterback hurries in addition to the three sacks. This was the most total pressures the Giants delivered this season, per PFF.
Defensive ends Jason Pierre-Paul and a now healthy Robert Ayers led the way. Pierre-Paul didn't get credited with a sack, but he had six quarterback hurries, one hit and a batted pass. Ayers had one sack, one additional quarterback hit and three hurries.
The Giants also had nice contributions from Cullen Jenkins (5 hurries) who has made his way back to defensive tackle with Johnathan Hankins out, and also from Jasper Brinkley, who had a key sack in the game.
The Giants have the bye week to get healthy, and then they will try to carry the momentum and deliver a consistent pass rush over their final six games.