LeBron's frustration evident after one of his worst playoff performances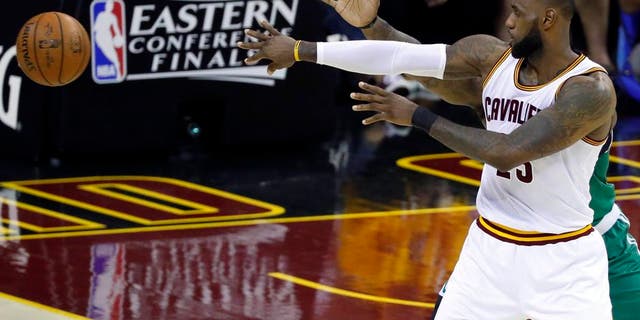 CLEVELAND (AP) --
James exchanged words with a fan late Sunday night after the Boston Celtics stormed back from a 21-point deficit in the third quarter and shocked the Cleveland Cavaliers in Game 3 of the Eastern Conference finals.
As he walked down a hallway inside Quicken Loans Arena to the postgame news conference, James, who scored just 11 points and only one in the final 18 minutes, was heckled by the fan for his sub-par outing. James spun around and asked the man to repeat himself.
Security ushered the fan away from James, who then went to the podium and was blunt in assessing a very uncharacteristic game for the NBA's best all-around player.
"I had a tough game, period," he said. "Not just in the second half. Me, personally, I didn't have it. My teammates did a great job of keeping us in the game, building that lead. But me, personally, I didn't have it. That's all I've got to say about my performance."
There wasn't much to gush about, that's for sure.
James didn't score in the fourth quarter and went only 1 for 8 from the field with one rebound and one assist in the second half.
It was James' lowest point total in the playoffs since he scored seven for Miami in the 2014 conference finals against Indiana, and before Boston's comeback, James was 49-0 in playoff games his team led by at last 20 points.
Making it more staggering is that James has been so brilliant in this postseason, taking his exquisite game to an even higher level.
He had scored at least 30 points in eight consecutive playoff games, the first player to do that since Kareem Abdul-Jabbar in 1970, and there didn't seem to be anything the Celtics could do to stop him.
But James went just 4 of 13 from the field, missing all four 3-pointers. He had six rebounds and six assists, but also committed six turnovers, including a costly miscue down the stretch when his pass was stolen by Jae Crowder.
"He's human, so he's going to have a night like this," said Cavs coach Tyronn Lue. "He didn't shoot the ball well, and we still had a 20-point lead. A game we should have won, but they played hard. They scrapped. They have a scrappy team. We knew that coming into tonight. We knew it wouldn't be easy, but we got some things we can correct and come back ready to go on Tuesday (in Game 4)."
The Celtics, who were blown out by 44 points at home in Game 2, won despite being without star guard Isaiah Thomas. His season is over because of a hip injury, and although he's not around, his presence was felt by his teammates who rallied to keep their season alive.
James was eager to break down film of the game on Monday, but he was able to recall much of what Boston did right.
"They moved the ball, and they kept us at bay," he said. "We couldn't get stops. We couldn't get out in transition a lot. Those guys made plays. They made a lot of plays. They got some second-chance points. We only had two fast-break points, so they neutralized what we wanted to do."
The loss snapped Cleveland's 10-game winning streak in this postseason and a 13-game run dating to Game 4 of last year's Finals.
James, who is trying to win his seventh consecutive conference title, tried to find a silver lining on an otherwise forgettable night.
"Some adversity is all part of the postseason," he said. "I feel like you have to have some type of adversity in order to be successful. If it was going to happen, let it happen now; let us regroup. Let us regroup and all the narrative and everything that was going on, let's regroup and let's get back to playing desperate basketball, which they did tonight. So we've got to be a lot better, for sure."