LeBron passes Duncan on scoring list, leads balanced Cavs past Celtics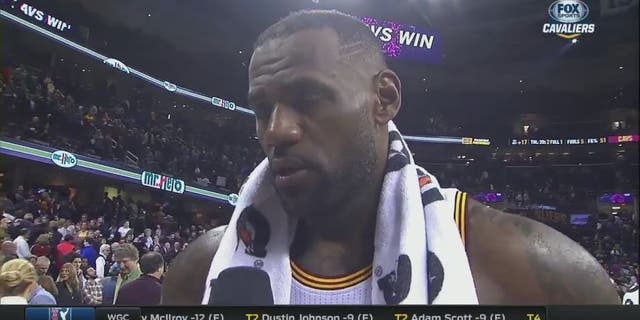 CLEVELAND -- LeBron James was touched when Tim Duncan, arguably the best power forward in NBA history, pulled him aside following the 2007 NBA Finals.
Although Duncan and the San Antonio Spurs had swept Cleveland, the All-Star center told a young James that the league was about to be his. Duncan was ready to pass the torch.
Nearly 10 years later, Duncan's still playing.
"So he lied to me," James said, cracking a wide smile.
James scored 28 points and passed Duncan on the NBA's career scoring list, and Cleveland had seven other players in double figures as the Cavaliers shook off a slow start for a 120-103 win over the Boston Celtics on Saturday night.
The Cavs trailed by 18 points in the first quarter but got physical on defense, regrouped and stopped Boston's winning streak at five games.
Kyrie Irving added 21 points and Iman Shumpert busted out of a shooting slump to add 12 points and a career-high 16 rebounds for Cleveland, which moved 2 1/2 games ahead of Toronto for the best record in the Eastern Conference.
James, who seems to reach a new milestone every time he takes the court, has 26,378 points, 12 more than Duncan, who sat out the Spurs' game against Sacramento.
There's been a long connection between James and Duncan. They've faced each other three times in the Finals and the two are intertwined by their skill and commitment to the game.
"He's the greatest power forward of all time. If not one of the greatest of all time, period," James said. "I got so many different stories and so many different things and situations that have been linked to him and we've been linked together. Even though he's a few years older than me, we just stayed linked and I just think what he's done for this league and what he's done for the Spurs organization and what he represents is something you can kind of look towards if you ever kind of get sidetracked.
"You look at a guy like that and it kind of puts you right back in place."
Isaiah Thomas led the Celtics with 27 points and Jared Sullinger had 17 with 13 rebounds.
Boston started hot, but cooled off. The Celtics were 15 of 25 from the field in the first quarter and 22 of 55 the rest of the way.
"We were making shots at a rate that was really good, but you're probably not going to sustain that for a whole game," coach Brad Stevens said. "It's a long game. This is a good team. We knew we were going to have to play a lot better than last time to win the game. We did it for a quarter instead of for four."
The Cavs were clinging to a seven-point lead in the fourth when they opened some distance over the up-and-coming Celtics with a 7-0 run triggered by a 3-pointer by J.R. Smith. On Cleveland's next possession, James blasted down the lane for a layup and Shumpert capped the spurt with a jumper. Smith, who added 14 points, later knocked down a 3 with 2:03 left, ending any thought Boston had of a late comeback.
On their previous visit to Cleveland, the Celtics rallied in the final seconds to beat the Cavs 104-103 on Feb. 5. Avery Bradley hit a game-winning 3 from the corner at the horn for Boston, which trailed by four with 7 seconds remaining.
HOT-HEADED
The Celtics were slapped with two technical fouls, one on Marcus Smart and the other on Sullinger, who admitted he and his teammates got frustrated.
"We didn't keep our poise and the refs got to us," Sullinger said. "We have to do a better job of controlling that. You've got to let it roll off your back and kind of move on."
HARD HIT
Cavs center Timofey Mozgov took an elbow to the throat from Boston's Amir Johnson, who was called for a Flagrant 1.
Coach Tyronn Lue said his center is fine.
"He's 7-foot-2, 300 pounds," Lue said with a laugh. "He better be OK."
TIP-INS
Celtics: Boston began a stretch of six straight games against probable playoff teams. After the Cavs, the Celtics face Memphis, Houston, Indiana, Oklahoma City and Toronto. ... Stevens is as competitive as they come and the former Butler coach said it's never easy for him to shake a loss. "I remember every loss vividly," he said. "Even if it's Scrabble with the family."... C Kelly Olynyk missed his ninth straight game with a sprained right shoulder.
Cavaliers: James also scored in double figures for the 700th straight regular-season game. His streak began on Jan. 6, 2007. Michael Jordan holds the NBA record, scoring at least 10 points in 866 consecutive games. Kareem Abdul-Jabbar did it 787 times in a row. ... James came in needing 17 points to pass Duncan (26,366). Next up for James is John Havlicek (26,395).
UP NEXT
Celtics: Host Memphis on Wednesday.
Cavaliers: Host Memphis on Monday.