LeBron James thinks he and Popovich could have been 2 peas in a pod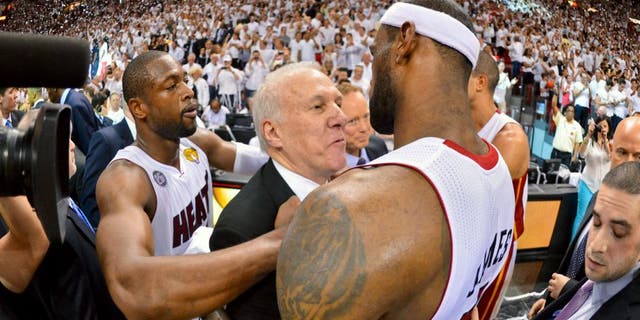 NEWYou can now listen to Fox News articles!
Cleveland Cavaliers star LeBron James has a high basketball IQ. We know this by watching the King in action and, well, through his own words. He also likes others who boast obviously high basketball IQs like San Antonio Spurs and 2016 Western Conference All-Star coach Gregg Popovich.
Listening to James talk about Popovich, as he did Friday during an All-Star media session from Toronto, you get the feeling that he never would have gained the reputation as a coach killer if he had played his whole career for the only NBA coach that Tim Duncan has ever answered to in 19 seasons.
James is the only player to hand Popovich a loss in six NBA Finals appearances. The two future Hall of Famers are 1-1 against each other, splitting the 2013 and 2014 championship series. They'll go against each again during Sunday's NBA All-Star Game.
Are criticisms that James has a history of undermining his head coaches fair? It's hard to argue that it's never been the case. But when you think you're smarter than your boss, it can be hard to keep your mouth shut. And it's hard to argue that James hasn't thought of himself as smarter than most, if not all, of his coaches (via Cleveland.com).
Popovich has never had to worry about that, which is a testament to his basketball brain and the relationships he's forged with his players, as well as a function of the selfless players he's coached. From David Robinson to Duncan to Tony Parker and Manu Ginobili to Kawhi Leonard, none of those players ever viewed themselves as bigger than the team, or smarter than the coach.
Had Pat Riley not had that bag of championship rings to dump in front of James, one can only wonder how long Miami Heat coach Erik Spoelstra might have lasted after an initial rough start.
In Cleveland, David Blatt didn't make it to his second All-Star break despite a Finals appearance and leading the Eastern Conference this season. Otherwise, he, and not Tyronn Lue, would have been coaching against Pop on Sunday night as the coach of the East All-Stars.