LeBron James slams Trump as 'so-called president' in Ohio speech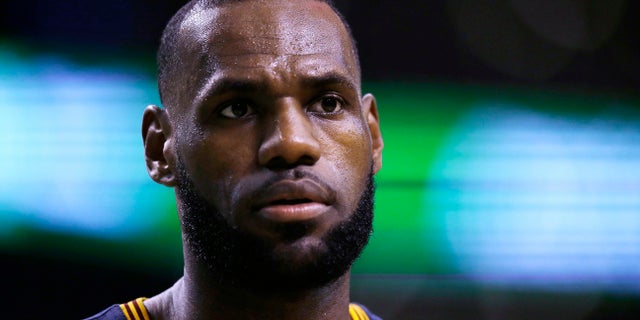 LeBron James slammed President Trump during a speech at an Ohio amusement park Tuesday, calling Trump the "so-called president" while pleading for people to unite following the Charlottesville tragedy.
James spoke at Cedar Point Amusement Park in Sandusky, Ohio, and told the crowd he wanted to spend a moment to address last weekend's violent protests where Heather Heyer, 32, was killed Saturday after a car rammed into a group protesting white supremacists in Charlottesville, Va.
While holding his baby daughter, James turned his thoughts to the violence.
"I know there's a lot of tragic things happening in Charlottesville," James said. "I just want to speak on it right now. I have this platform and I'm somebody that has a voice of command and the only way for us to get better as a society and for us to get better as people is love. And that's the only way we're going to be able to conquer something as one. It's not about the guy that's the so-called president of the United States, or whatever the case."
WHITE HOUSE VISIT? NO THANKS, SAYS NBA'S DURANT
James tweeted a message criticizing Trump earlier in the day.
"Hate has always existed in America. Yes we know that but Donald Trump just made it fashionable again! Statues has nothing to do with us now!" James wrote.
The Cleveland Cavaliers star has been vocal about his political beliefs. Last year he endorsed Democratic presidential candidate Hillary Clinton and introduced her at a rally in Cleveland.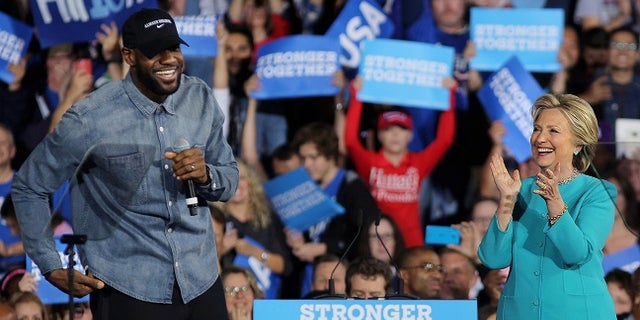 "It's not about a teacher that you don't feel like cares about what's going on with you every day," James said Tuesday. "It's not about people that you just don't feel like want to give the best energy and effort to you. It's about us. It's about us looking in the mirror. Kids all the way up to the adults. All of us looking in the mirror and saying, 'What can we do better to help change?' And if we can all do that and give 110 percent, then that's all you can ask for."
"So, shout-out to the innocent people in Charlottesville and shout-out to everybody across the world that just want to be great and just want to love. Thank you, and I love you all," James concluded.
RAIDERS CORNERBACK ALLEGEDLY BEAT SISTER'S BOYFRIEND
James was also joined on stage by his three children, singers Usher and Jordin Sparks and Cavaliers teammate J.R. Smith.
This is not the first time James has publicly criticized Trump. During the NBA season, James was asked if the All-Star voting was "goofy" because players were involved in the balloting.
"There's always goofy votes," James said. "I mean, Donald Trump is our president."
The Associated Press contributed to this report.