LeBron James now has more playoff wins than Michael Jordan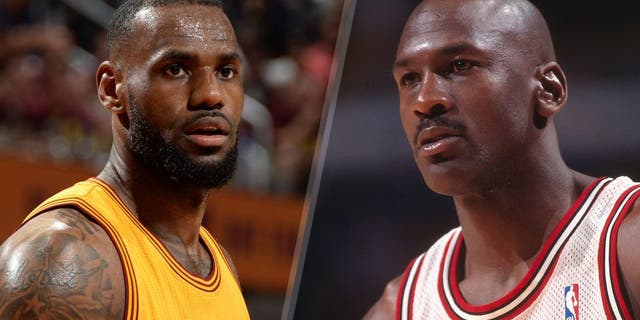 LeBron James won his 120th career playoff game on Monday night when the Cleveland Cavaliers took down the Atlanta Hawks in Game 1 of the Eastern Conference Semifinals. He tallied 25 points, nine assists, seven rebounds and five steals in the victory, which gave him more career playoff wins than Michael Jordan. No big deal:
Someone needs to throw a party in your honor anytime you pass Jordan in anything related to the postseason. Yes, LeBron has already played in four more playoff games than Jordan ever did; Jordan would have more wins on his resume if: A) He didn't retire for two years in the middle of his prime, and B) the league's playoff format was best-of-seven instead of best-of-five in the first round through his entire career.
Coincidentally, the NBA made the first round a best-of-seven series in the 2002-03 season, which was Jordan's final year with the Washington Wizards (when his team failed to make the playoffs) and one year before James entered the league.
Anyway, good for LeBron! He passed Jordan in a meaningful team-oriented stat that shows just how consistently great he's been throughout his career. In a world where the playing field is level, it's likely Jordan would still be far ahead. But aside from a faulty jump shot that could easily return next season, James has shown no sign of slowing down anytime soon. He's still one of the two or three best players in the universe, and his team is consistently in a position to make the NBA Finals.
There's a very good chance that before he retires, LeBron will have more playoff wins than anybody who ever lived -- unless Tim Duncan plays until he's 75.