LeBron James has turned the Cavaliers into a 'real brotherhood'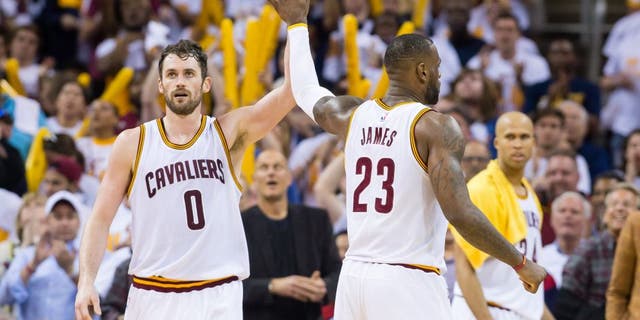 NEWYou can now listen to Fox News articles!
With one of the most tumultuous regular seasons experienced by a first-place team in recent NBA history in their rear view mirror, the Cleveland Cavaliers suddenly look more focused, dominant and cordial than ever before.
After sweeping the Detroit Pistons and Atlanta Hawks in the first two rounds, it feels like LeBron James' subtweets were posted approximately one million years ago. All of a sudden, genuine off-court chemistry has emerged as one of Cleveland's most powerful characteristics. After Game 3, on Saturday, they ate lunch as a group, walking from their hotel to a restaurant. It's a stark contrast from where they were in Year 1, and even earlier this season, when Kevin Love and Kyrie Irving heard their name in trade rumors, while James went out of his way to sustain dark clouds overhead.
But now, not only are they playing their best basketball, but they're finally enjoying each other's company, too. It's impossible to quantify, but the rest of the league should be worried (via Cleveland.com):
Members of the Cavaliers gathered in the hotel lobby of the Four Seasons before venturing out for lunch...For approximately 10 minutes, James, Kevin Love, Tristan Thompson, Frye, James Jones, Dahntay Jones and Richard Jefferson just stood in place talking.
General Manager David Griffin was off to the side watching. "This is special," he told me. "This wasn't there before." He was alluding to the team camaraderie that has blossomed of late.
The impact on Love, who's playing his best basketball in a Cavs jersey, is particularly important (via Cleveland.com):
First of all, Love is known throughout the league as an introvert. That's just the way he rolls. He has described himself as a homebody, but over the last few months, he's been extroverted with his teammates.
"He's just getting out of his shell, getting more comfortable," Thompson told me. "Kevin, he's full of jokes too now. Now he'll lead the roast. He'll start the roast."
Love is only shooting 36.4 percent from the field in these playoffs, but it just might be the best 36.4 percent of all time. He's averaging 18.9 points and 12.5 rebounds per game. A pick-and-pop marksman who's already nailed 28 threes (only J.R. Smith, Damian Lillard and Klay Thompson have made more), Love and LeBron annihilated the Hawks in Game 4 with an unstoppable ball screen-to-corner three action that Mike Budenholzer will cry about all summer long.
The Cavaliers lead the playoffs in offensive rating, and when Love, James and Irving share the floor they outscore opponents by 13.5 points per 100 possessions, per NBA.com. The whole squad is burying basically every shot they take, and the ball isn't sticking in any one player's hands (unless Irving has it, but only six guys have a higher playoff PER and he's made 53.8 percent of his threes, so, whatever).
This team can't play any better than they are right now, but that's fine, since it just may be enough to win their first championship in franchise history.