LeBron James has a blunt response when asked whether guarding Kevin Durant is taking a toll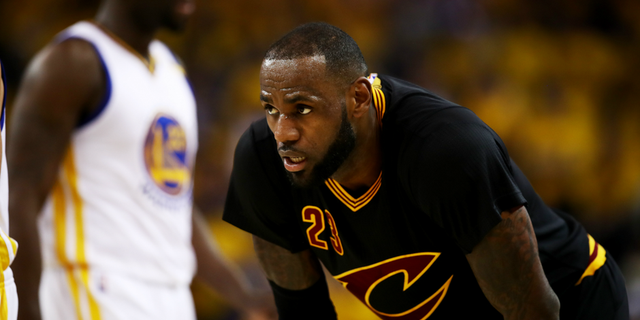 NEWYou can now listen to Fox News articles!
Kevin Durant has basically had his way during the first two games of the NBA Finals, averaging 35.5 points, 11 rebounds and seven assists while shooting an absurd 56 percent from the field and 50 percent from deep. Hes done all of this damage with LeBron James as his primary defender, leaving some to wonder if its better to have someone else check Durant to conserve James energy.
LeBron does not subscribe to that train of thought. On Wednesday, the Cleveland Cavaliers superstar was asked if chasing Durant is wearing him out, but the four-time MVP was having none of it.
James simply pointed to his own averages in the Finals.
Do I look tired? James asked. Im averaging a triple-double in the Finals. Im pretty good.
James is correct, he has averaged 28.5 points, 13 rebounds and 11 assists through the first two games of the series. But he did look pretty exhausted during the third quarter of the Cavs Game 2 loss, and his second-half production has dipped in each of the first two games.
But if LeBron isnt going to cover Durant to conserve energy then who can he cover on the Warriors to get a breather? Possibly Draymond Green, or maybe the fifth player the Warriors send out with their Big 4 of Durant, Steph Curry, Klay Thompson and Green?
But if the Cavs do that then Kevin Love, a suspect defensive player, might get exposed facing one of Golden States more offensive-minded players. James probably knows this and accepts that he will have to exert an immense amount of energy on both sides of the ball this series. Will it be enough in the end?
Kelley L Cox-USA TODAY Sports | Kelley L Cox