LeBron James' chance to surpass Michael Jordan is on the line in these NBA playoffs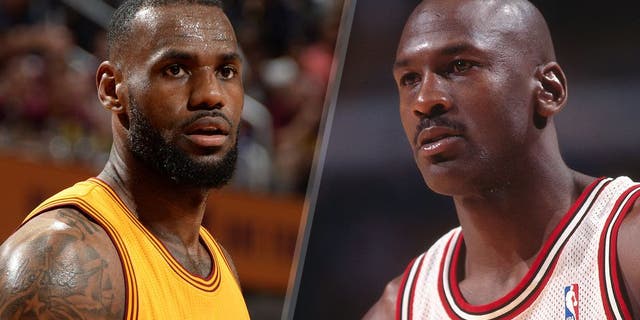 NEWYou can now listen to Fox News articles!
This is your moment, LeBron James. Your entire legacy comes down to these NBA playoffs.
You already told the world what we all knew: You want to surpass Michael Jordan. You want to be the greatest of all time.
That is still your goal, right?
Well, if you want to catch that ghost, you'llneed to play the very best basketball of your life over the next two months because your team won't help you.
Whether they're resting on their laurels or simply bad defensive players, the Cleveland Cavaliers can't stop anyone. Anyone waiting for this team to flip a switch is waiting on you specifically, LeBron.
If the Cavs are going to go from mediocre defending champion to postseason juggernaut overnight, you'll have to carry the burden once more. They need your energy and your otherworldly ability to control every aspect of a game.
You're the only player on the planet who can turn the tide of a series on your own.
Yetif you can't lead your team to a championship, this whole "Better than MJ?" conversation ends in June. For good.
L-R: Andrew D. Bernstein & Rocky Widner/NBAE
Before the season started, we laid out the criteria for LeBron to pass the Greatest of All Time. Here's what LeBron needs to do, plain and simple, among a few other trivial points:
Finish his career with the Cavaliers. That one's easy enough.
Avoid bringing another superstar to Cleveland, like a Chris Paul or Carmelo Anthony. LeBron can't add any more help, or people will criticize any further championships he should win.
Beat Kevin Durant's Warriors on the way to the next three NBA titles.
Easy enough, right?
Brett Davis-USA TODAY Sports
That last one winning the 2017 title, and beating the Warriors to do it is the kicker.It's the reason LeBron's entire chase depends on this postseason.
Tobeat the best, one must do what the best never could.While he can't match Jordan's perfect 6-for-6 Finals record, LeBroncan top the best stretch of His Airness' career.
Thatmeans winning four straight championships at the very least, bringing him to six total, and collecting each Finals MVP along the way.
Add one more down the line, and we have a genuine conversation on our hands.
Jason Miller
But LeBron's 32 years old. He's worn down. And if the Cavs can't add a second consecutive title to their historic 2016 championship, can we really expect LeBron to win four straight championships in the remainder ofhis career, when he'll have to start from scratch?
You know the answer to that as well as I do, King James.
Everything you ever wanted comes down to these two months. So for your sake, I hope that fabled "switch" people keep expecting the Cavaliers to flip is real. I want you to make history. I want to embrace this conversation.
And the only way we get past the opening syllable is if you shock the world once more.
Can you?