LeBron closing in on Kobe on all-time playoff mark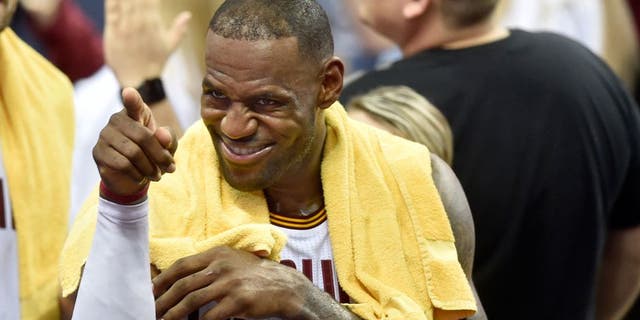 NEWYou can now listen to Fox News articles!
CLEVELAND -- The Cavaliers have never lost a playoff series they led 2-0. When winning the first game of any series, Cleveland has advanced 15 out of 16 times.
Tack on the fact that LeBron James has never lost a first-round series, is 45-7 lifetime in opening-round games and has won the last 18. Yes, it would seem the Indiana Pacers are in trouble in their Eastern Conference first-round matchup against the Cavaliers.
But they were inches from being in a decidedly different position.
"When you are down one with ball, you have to execute the play and hit the shot. We didn't do that," Pacers coach Nate McMillan said, looking back at the Cavs' 109-108 win in Game 1 on Saturday.
Game 2 is at Monday night at Quicken Loans Arena.
Coverage begins at 6:30 p.m. on FOX Sports Ohio
"I do feel like we let one slip away," McMillan said.
The Pacers lost when C.J. Miles missed an open 14-footer at the buzzer. But they also went scoreless for nearly three minutes toward the end of the fourth quarter after Jeff Teague's 3-pointer put Indiana ahead 105-103 with 3:31 left.
The Cavs say they made the play they wanted to make at the end, forcing Pacers star Paul George to give the ball up to Miles, who was initially covered before shaking free from Richard Jefferson just before releasing the ball.
Nevertheless, Cleveland was dangerously close to losing its fifth consecutive game, dating back to the regular season. The Cavs also nearly dropped another game in which they held a double-digit lead in the fourth quarter, and they almost coughed up home-court advantage in the series.
"He missed, we won," James said.
James was mostly brilliant in Game 1, posting 32 points, 13 assists and six rebounds in 43 minutes. He needs 37 points to pass Kobe Bryant (5,640 points) for third place in NBA playoff scoring history, and needs two more rebounds to pass Robert Parish (1,765 rebounds) for eighth in postseason history.
The Cavs have areas of concern, however. Kyrie Irving scored 23 points to go with six assists but shot 11 of 27 from the field. Kevin Love scored 15 of his 17 points in the first half and finished with just four rebounds.
Cleveland shot just 14 of 27 from the foul line. Kyle Korver, the league's top 3-point shooter this season, made the only shot he took on Saturday -- and it wasn't even a 3-pointer. The Pacers scored 19 points on the Cavs' 11 turnovers, and Indiana won the rebounding battle 41-34.
"I thought defensively we were pretty good outside the loose balls they got, the offensive rebounds and put-backs, the 50/50 balls we didn't get to they scored on," Cavs coach Tyronn Lue said. "Just clean those things up and it'd have been a different game. Eleven turnovers for 19 points and then missing 13 free throws wasn't good for us, either. But we found a way to pull the game out, and we'll be better."
The Cavs led by 12 late in the third quarter Saturday and by 10 with 9:06 to go. An adjustment the Pacers made was moving Lance Stephenson, who has a history against James in the playoffs, to a prime spot in Indiana's offense. Stephenson, a reserve for the Pacers since signing as a free agent late in March, played all 12 minutes of the fourth quarter and scored eight of his 16 points.
It's time for the Cavs to make an adjustment there, too.
"We were just trying to keep them in front of us and I think that worked," McMillan said. "They had to shoot contested twos. LeBron was able to get into the paint and score on some of those occasions, but it allowed us to get back into this game and eventually have a chance to win."