League-leading Cardinals and Royals excel at preventing runs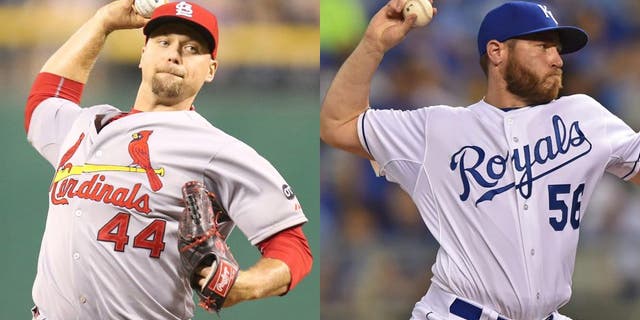 It sounds simple enough: If you keep the other team from scoring, you'll probably win. And the St. Louis Cardinals and Kansas City Royals -- who have the two best records in baseball -- are among the best at doing just that.
When the Cardinals beat the White Sox 3-2 and the Royals beat the Pirates 5-1 on Wednesday night, they added to their impressive totals of games in which they allowed less than three runs -- a feat that goes a long way toward explaining why the Cardinals (60-34) and Royals (57-36) boast the best records in their respective leagues.
The Cardinals have allowed two or fewer runs in 53 games this season, easily the most in Major League Baseball. The Royals have 42 such games, the game's third-best total (one behind Tampa Bay).
Obviously, both clubs have strong pitching staffs. St. Louis leads MLB with a phenomenal 2.67 ERA, and Kansas City is tied for seventh at 3.47.
The Cardinals have a strong edge with their starting pitchers, who have compiled a major league-best 2.83 ERA. (At 4.27, the Royals are 23rd.) The starting staff in St. Louis has won over two-thirds of its decisions this year. Among National League teams in the wild-card era, only the 1998 Braves had a better record from their starters.
St. Louis' bullpen, meanwhile, has a 2.35 ERA, second best in baseball. The team they trail? Kansas City (2.21). Royals relievers, in fact, have combined for the second-lowest opponent on-base plus slugging percentage of any team in the wild-card era.
The Royals-Cardinals game at Busch Stadium on Thursday night isn't all about pitching. St. Louis third baseman Matt Carpenter leads the majors with 78 hits in interleague play over the past three seasons.
Royals center fielder Lorenzo Cain is batting .315 this season, and he has made pitchers pay dearly when falling behind on the first pitch. Teammate Alex Gordon was on a similar path until he suffered a groin strain that landed him on the disabled list just before the All-Star break.