Leading Global Soccer Association Insists Violent Protests In Brazil Won't Taint World Cup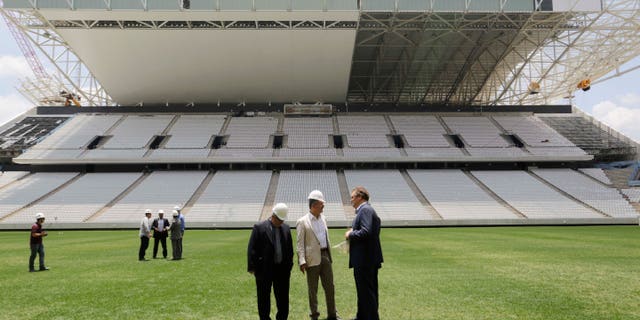 BRASILIA, Brazil (AP) – The leader of the world's top soccer organization said that Brazil's continuing violent demonstrations won't impact the World Cup, noting he's counting on police to keep protesters seeking to disrupt the tournament at bay.
Anti-government protests hit a fever pitch last June during the Confederations Cup, with around a million people pouring into the streets on a single night demanding better schools, hospitals and an end to corruption. There also were bitter complaints about the billions of dollars being spent on the World Cup.
The demonstrations have shrunk in size in recent months but remain violent, with protesters clashing with police and carrying out vandalism in Rio de Janeiro and Sao Paulo. A TV cameraman was recently killed in Rio after being hit in the head with a flare allegedly fired by a protester.
Despite the continuing incidents, FIFA Secretary General Jerome Valcke said he's not worried that soccer's premier event will face significant issues, telling a media conference "we are expecting a quiet World Cup and we are expecting that whoever wants to be at the World Cup will have the right to do so."
No matches were delayed during last year's Confederations Cup, although protests raged near the stadiums on several occasions. Police maintained a security ring that mostly kept protesters at bay, although on a few occasions groups did break through.
More demonstrations are certain during this year's World Cup, but Valcke insists the tournament's importance will outshine protests.
"We are sure that the World Cup is too big an event for any country around the world not to support its organization," Valcke said. "I'm not saying to support FIFA, that's not the point, (but) to support the organization of these games in a country in 12 host cities."
Brasilia was one of the host cities which endured violent protests during the Confederations Cup.
Valcke visited the capital's stadium as part of his latest inspection tour. Later on Monday he went to the southern city of Porto Alegre, where the president of the Brazilian club in charge of the Beira-Rio stadium said there was a risk the venue would be unavailable for the World Cup because of a dispute over who will pay for the temporary facilities required by FIFA outside the venues.
Valcke met with local officials and said they made a commitment to find a solution by Thursday.
"FIFA and the LOC (local organizing committee) would like to reiterate that this is not a question of Porto Alegre being, or not being part of the 2014 FIFA World Cup," FIFA said in a statement. "The stadium is ready to host normal football matches. The challenge is the transformation of the arena to be able to host FIFA World Cup matches. All parties are committed and working hard to find a solution for the issue of the complementary structures."
On Tuesday, FIFA will announce whether Curitiba in southern Brazil will remain a tournament host venue. FIFA gave an ultimatum to local officials, and they have one day left to show its delayed stadium will be ready in time.
In addition to Curitiba and Porto Alegre, three other host cities have stadiums under construction even though Brazil promised to have all 12 venues ready by the end of last year.
Follow us on twitter.com/foxnewslatino
Like us at facebook.com/foxnewslatino
___