LB swaps jerseys to honor brother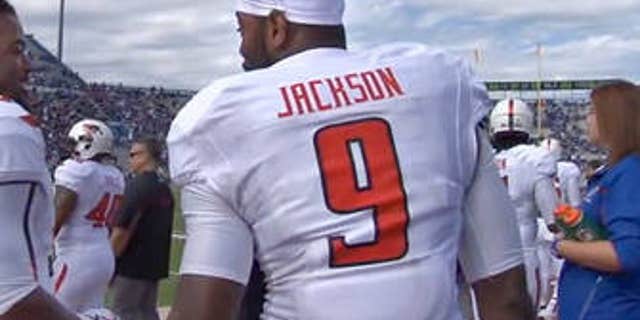 Whenever Texas Tech goes out for a punt -- which is a few times a game -- the official has to make an announcement to alert the crowd that No. 9, Branden Jackson, is now wearing No. 90.
The crowd reacts to it, but mostly because the announcement seems needlessly clerical.
"I'm not sure they know what's going on," Jackson said. "But they know something is."
What most haven't known is that Jackson switched jerseys in honor of his stepbrother, Chauncey Williams, who was murdered last year in Pennsylvania. Williams wore the No. 9 jersey in high school -- but since Texas Tech already has a No. 9 on the punt team, Jackson wears a velcro-equipped tearaway No. 90 when it's time for the Red Raiders to punt. Thus, the announcement.
"It keeps me going," Jackson said, "[It feels] like he's right next to me."
This week, Texas Tech plays at West Virginia -- an hour from Jackson's hometown of McKeeseport, Pa., where Williams was killed.
"This is the first time my family gets to see me," he said. "I'm sure it's really going to hit home when they see No. 9 in person."
The original article can be found at FOXSports.com: LB swaps jerseys to honor brother.