Lawrie not opposed to shifting around infield with A's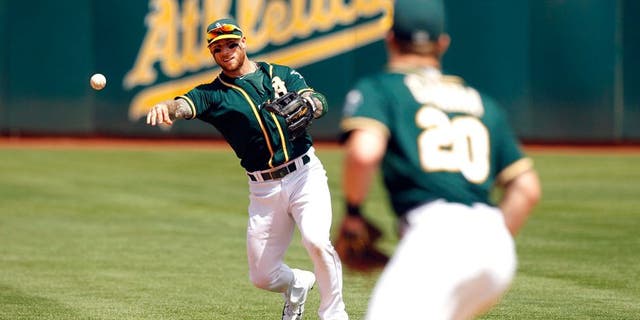 NEWYou can now listen to Fox News articles!
When the Oakland Athletics acquired Brett Lawrie from the Toronto Blue Jays in the Josh Donaldson trade, he joined the club as a third baseman. However, he's also played some time at second base this season with Oakland, especially recently after the club brought in Danny Valencia on a waiver claim.
When asked by Joe Stiglich of CSN Bay Area over the weekend about his ability to slide around the infield without a permanent, designated defensive role, Lawrie took a diplomatic approach in explaining that it doesn't really matter to him: "I try to keep it simple. Just think about picking up the ball and throwing them out, almost treat it as if it's an (infield) shift (when I'm at second). I try not to think too much about it."
Lawrie and Valencia are under team control through 2017, so it's likely both will find spots on the 2016 roster (barring another Billy Beane purge, of course). The A's are an organization that values versatility, and Lawrie's ability to play more than one infield role is a definite plus for the 25-year-old - as is his occasional 470-foot home run.
What's more, Saturday marked Lawrie's 120th game of the season. That's just five shy of his career high, set in 2012 with Toronto.
Stiglich asked him about that as well, to which Lawrie knocked on wood and also shared some thoughts about his newfound health: "I try not to talk about it. It's just doing things a little bit differently, getting off a tough surface that I played on for a number of years (in Toronto). The overall mentality of trying to (control) the spots that kind of block me and don't allow my body to go out there and perform."
The A's are having a tough 2015, no doubt, but Lawrie has been a continual bright spot.