Lawrence Taylor's mini Super Bowl trophy is up for auction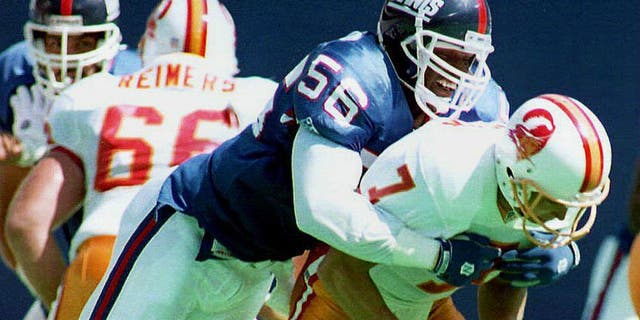 The miniature Lombardi Trophy given to Lawrence Taylor after the New York Giants Super Bowl XXV victory was put up for auction on Tuesday morning.
According to ESPN, the trophy is being auctioned off by Goldin Auctions with an initial bid of $15,000. The auction will end May 20, and the 6-pound, 16-inch trophy is expected to fetch at least $60,000, the amount Ottis Andersons trophy from that same game sold for at auction last year.
Goldin Auctions president Ken Goldin told ESPN that Taylor, who signed the ball on the trophy, wasnt the consignor. This isnt the first time one of Taylors Super Bowl mementos has been auctioned. His Super Bowl ring, which was consigned by the 58-year-olds son, from the same game sold for $230,401 in 2012.
The Giants beat the Bills 20-19 in Super Bowl XXV after kicker Scott Norwood missed a 47-yard game-winning field goal with seconds to go.
A 10-time Pro Bowler and three-time Defensive Player of the year, Taylor redefined the linebacker position during his Hall of Fame career, racking up double digit sack totals seven times.