Laviolette mum on Game 6 goalie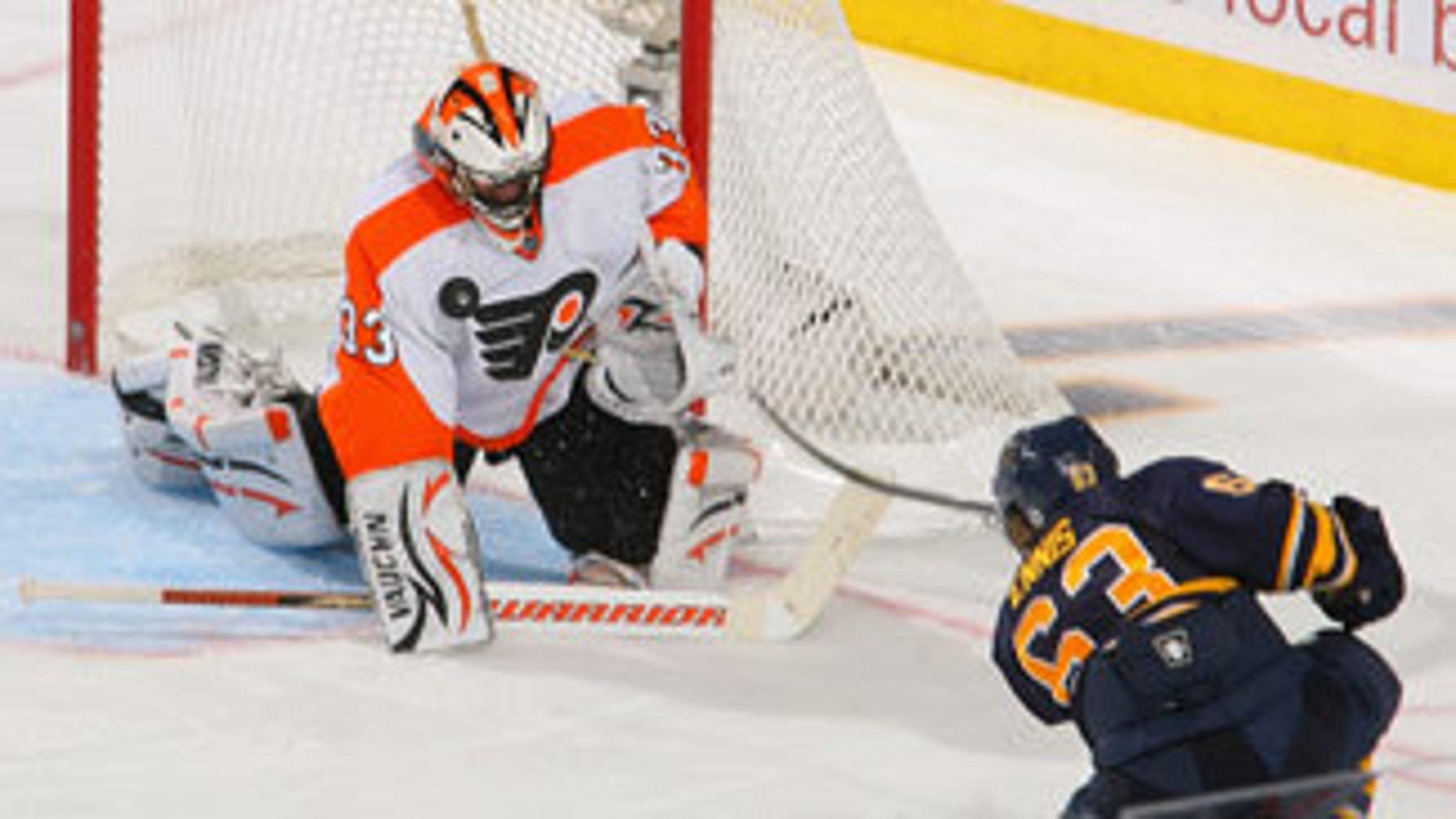 VOORHEES, N.J. -- The Flyers had goalies Sergei Bobrovsky, Michael Leighton and Brian Boucher on the ice here at Virtua Health Flyers Skate Zone for Saturday's skate, but coach Peter Laviolette wasn't announcing any decision regarding who might start for his team in Game 6.
Laviolette said following Game 5 he would "sleep on that one and probably give (the media) nothing," and he was true to his words Saturday.
Brian Boucher allowed three goals on 11 shots and was pulled 15:36 into the game, replaced by Michael Leighton. In his first NHL action since Dec. 30, Leighton stopped the first 20 shots he faced,  but allowed Tyler Ennis' goal 5:31 into overtime.
It was the worst playoff start of Boucher's 11-season NHL career, but he had been solid the three games prior to that, stopping 83 of 87 shots after replacing Sergei Bobrovsky early in Game 2.
And Bobrovsky, who was a healthy scratch for the last three games, was solid in Game 1, stopping 24 of 25 shots, and was the team's best goaltender during the regular season.
So how will Laviolette decide which goalies play and which one sits?
"I think as we look at that, for me it'll probably be a combination of everything," he said. "Certainly where we're at right now, how the playoffs have gone, that will factor into it probably more than how somebody played halfway through the year or the beginning of the year or last year. I think it'll be more current than anything, but the overall picture, as well."
Boucher said he'd like to get back into the net as soon as possible to make good for putting his team in a 3-0 first-period hole in Game 5.
"You want to get back at it," he said. "I still feel very good about my game. You'd like to take, I don't know how many minutes (between) those two goals ... but you'd like to have them back. The only way you can get it back is by getting back in there and making amends for it."
Leighton also would like to get back in goal, but understands that whoever gets the start doesn't have to take on all the pressure of that comes from having to win an elimination game.
"All three of us can play," Leighton said. "The team has confidence in all of us. Boosh and Bob did a great job this year. Boosh has done well in the playoffs. Now it's just a matter of we have to make the saves as goalies, the saves we're supposed to make. Hopefully the team plays well in front of us and we win a hockey game."
Contact Adam Kimelman at akimelman@nhl.com. Follow him on Twitter: @NHLAdamK