Latino Trainer Under Scrutiny At Kentucky Derby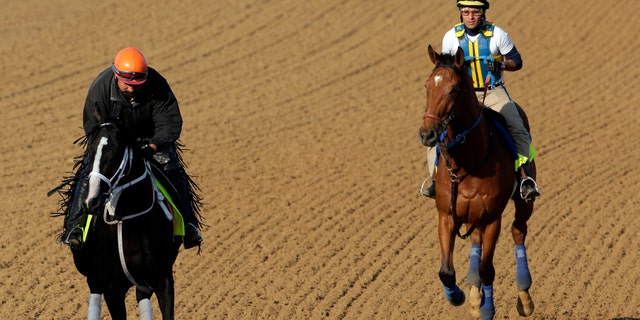 If you thought horse racing was devoid of scandal, talk to Rudy Rodriguez.
The small camera attached to the helmet of Rodriguez belongs to a video outlet looking to capture his viewpoint from atop Kentucky Derby contender Vyjack.
The four cameras positioned in Vyjack's stall at Churchill Downs are there to keep an extra watch on the gelding trained by Rodriguez. He was forced to accept the surveillance as a condition ordered by the Kentucky Horse Racing Commission in exchange for getting a trainer's license to run Vyjack in Saturday's big race.
"Being in the Derby is an amazing accomplishment for me," said Rodriguez, who turns 41 on Wednesday, when 24-hour security for all 20 Derby horses was set to begin.
The extra scrutiny for Vyjack was the result of a string of disciplinary issues involving Rodriguez during his career as a New York-based trainer, jockey and exercise rider. Kentucky racing officials ordered him to appear at the hearing two weeks ago.
"I don't think it was right, but you got to respect what the rulings are," he said.
Last month, a filly trained by Rodriguez tested positive at New York's Aqueduct for a high level of Banamine, a non-steroidal anti-inflammatory drug that is legal for horses but must be below an allowable limit on race day. It was the third time in the last year that one of his horses tested positive for excessive levels of the drug.
Rodriguez recently served a 20-day suspension for two earlier overages of Banamine. The third overage — considerably higher than the others — is being investigated and could result in further penalties.
"We're lucky that Kentucky gave me the opportunity to be here," he said.
Rodriguez went out on his own as a trainer three years ago after working for father-son trainers Richard Dutrow Sr. and Rick Jr., and the late Hall of Famer Bobby Frankel.
Kentucky officials were interested in Rodriguez's tenure as an employee of the younger Dutrow, who is currently serving a 10-year suspension from New York racing officials for multiple rules violations. Some of Dutrow's clients moved their horses to Rodriguez.
"I don't let nobody ruin this moment for me. I got nothing to hide," Rodriguez said. "We're trying to play everything by the rules."
He's got the support of Vyjack's owner David Wilkenfeld, who named the gelding using a combination of his parents' names Vivian and Jack.
Also in Rodriguez's corner is Eclipse Award-winning trainer Dale Romans. They first met in 2008 when Rodriguez exercised horses for the trainer in Dubai. Romans served as a character witness for Rodriguez at the Kentucky hearing.
"He's a very good man," he said. "I thank him a lot for supporting me."
Rodriguez is about as hands-on as many trainers get, whether it's riding Vyjack during his morning workouts, staying aboard for his cooling out trips around the barn or helping bathe the gelding afterward. He holds the reins in his right hand while reaching around with his left to massage Vyjack's rump as they circle the stalls in the barn.
"I love to be around horses," he said, refusing to let the extra scrutiny cloud his upbeat disposition.
"I'm in the place where every trainer in the world wants to be. How can you not be happy?"
Rodriguez calls Vyjack the best horse of his 80-head stable. Although he's never saddled a Derby horse before, he was in the background at major races working for the Dutrows and Frankel.
"Rudy is kind of a laidback guy," said Garrett Gomez, who will ride Vyjack. "There are some loose vibes going on."
Vyjack is 4 of 5 in his brief career, with his only loss coming to undefeated Verrazano in the Wood Memorial. Vyjack finished third that day, and will take on his rival again Saturday in the Derby.
"I'm glad we got the one loss out of the way," Wilkenfeld said. "We're here to win the big one."
Based on reporting by The Associated Press.
Follow us on twitter.com/foxnewslatino
Like us at facebook.com/foxnewslatino